More than 7,000 people sign petition to save Oldham Coliseum from closure
Oldham Coliseum is set to close at the end of next month
Closure is due to the theatre no longer being a part of the Arts Council England's Portfolio after a rejected funding application late last year
A petition has been signed by more than 7,000 people campaigning to save Oldham Coliseum theatre from closure at the end of March.
The decision has come due to the theatre no longer being a part of the Arts Council England's national portfolio from 1 April, which was announced late last year.
The board of trustees and senior leadership team have been working hard to be finding a solution to the reduction in funding.
However, they have stated that the current financial situation is not sustainable for the theatre to continue on a full-time basis.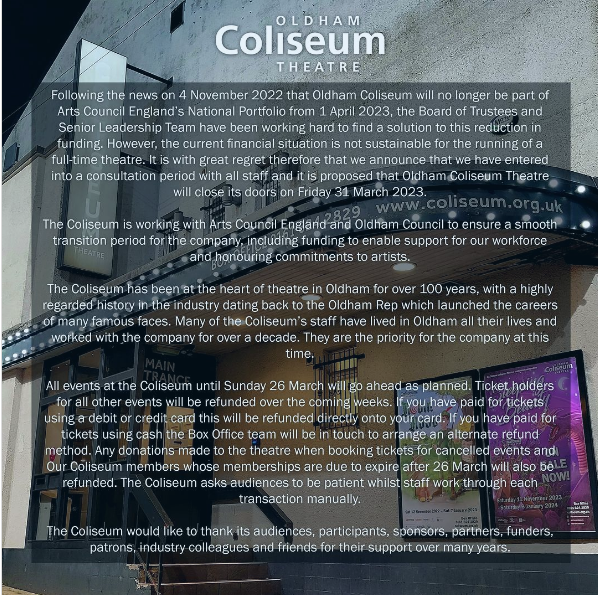 In a statement made by the theatre company, they emphasised the importance the theatre has had on Oldham community over the years.
It reads: "The Coliseum has been at the heart of theatre in Oldham for over 100 years, with a highly regarded history in the industry dating back to the Oldham Rep which launched the careers of many famous faces.
"Many of the Coliseum's staff have lived in Oldham all their lives and worked with the company for over a decade. They are the priority for the company at this time."
Funding for the theatres has been heavily relied upon by the Arts Council England over the last several years, and ultimately the hope to remain applicable was unsuccessful, after the application for £615,182 a year to 2026. This comes after the Arts Council England highlighted the 'record-breaking' number of applications, so 'difficult decisions' were made during the distribution of funding this year.
Public support continues to grow
A petition has been created to help save the closure of the theatre, with over 7,000 people signing. The reasons for the support is extensive, with commenters emphasising the significance of the theatre due to its richness of culture and the value of support small, local theatres like this one.
During Andy Burnham's Hot Seat on BBC Manchester Radio, when asked about the closure of the theatre, the GM Mayor said: "We have to keep a theatre in Oldham. Whether that is Oldham Coliseum or a new theatre, we will be here to help and make sure that happens."
The Coliseum is working with Arts Council England and Oldham Council to ensure a smooth transition period for the company, ensuring that payments for staff is ensured until the theatre is officially closed. An announcement was made also, reassuring that refunds for customers will be made for shows after 31 March.