Withington Baths frontage restored to former Edwardian glory
Withington Baths has undergone renovations to resemble its original Edwardian appearance
The Baths were condemned for closure less than a decade ago but the community fought back
It will be eight years in June since the Baths acquisition by Love Withington Baths
Featured Image: Withington Baths
After over a year of waiting, vital restoration work is all but complete at a Withington swimming baths once condemned for closure.
The frontage of Withington Baths on Burton Road has been renovated and faithfully restored to its original pre-first world war splendour.
The stained glass windows, coping stones and a refurbished roof complete with new glazed roof lights, as well as the 1970s pool hall doors stripped and repainted dark green, resemble the original 1913 appearance.
Much needed work on one of the activities rooms, studio 2, has also finished. Now all that remains is for the completion of new timber changing cubicles before work on the baths is fully completed.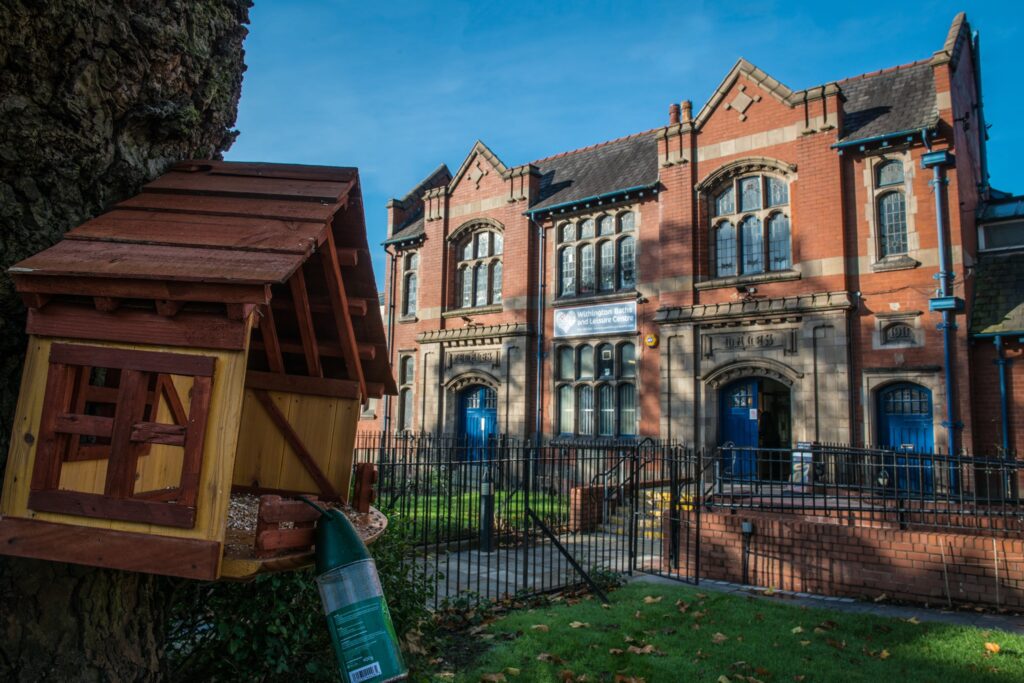 New life for a beloved swimming baths
These vital repairs and renovations have been a long time coming. In 2013, the Baths were earmarked for closure alongside other Council-owned swimming baths in Miles Platting, Broadway and Levenshulme.
Following large protests from residents and a petition which gathered over 8,000 signatures the pool was granted a 2 year reprieve, before a community led group, Love Withington Baths, was awarded the right to run the pool going forward as a private social enterprise in 2015.
Last year, the centre won £900,000 from The National Lottery Heritage Fund, enabling them to make the repairs that were needed. The whole project cost approximately £2.2m with the help of the Heritage Fund, a £1m loan from Manchester City Council and Love Withington Baths own savings.
The pool has remained open over the course of the restoration works but can now be enjoyed fully by the community. Response on social media to the news has been overwhelmingly positive.
Ricardo Dixie, who was involved in the campaigning to save the Baths back in 2013 "As an original member of the baths it's great to see the building looking so splendid".
"When we campaigned to save the baths all those years ago we never dreamt that one day the buildings impressive features would be restored".
"This important work means that the Baths can continue to serve its community for generations to come".
Eight years of Love Withington Baths
Work has reached completion in time for celebrations of the 8th anniversary of Love Withington Baths acquisition of the pool. Celebrations will take place on June 17th.