'Putin Began the War': inside the mind of Alina Kostrubitska on modern world killing
Alina Kostrubitska fled Ukraine to Manchester for her survival
Manchester is the home to thousands of Ukrainian refugees
'Manchester Stands with Ukraine' protests in support of Ukraine civilians and soldiers
Born in a small village outside of Ukraine's capital Kyiv, Alina Kostrubitska had a peaceful upbringing. She adored the hot summers, the city dwellers surrounding the vibrant attractions of power and life and reminisces: the main square of independence in Kyiv but 'due to the revolution of dignity and all these events, it looks the complete opposite in modern day.'
Alina was inspired by the Orange Revolution, as were many Ukrainians through its' effects on their national identity and studied political science at Taras Shevchenko National University of Kyiv. She perused a career in journalism within the state tv channel and started her PSG studies. Despite her ability to understand the concept of war through her studies, Alina never thought it would become her reality; on the 22nd of February 2022 the war had begun.
Alina explains: 'As a citizen, Ukrainian and a journalist, war began nine years ago when Russia invaded Ukraine. Ukraine didn't want to believe one day it'll be a full-scale invasion. We couldn't imagine seeing tanks outside our windows, but the USA told us to prepare for the inevitable'.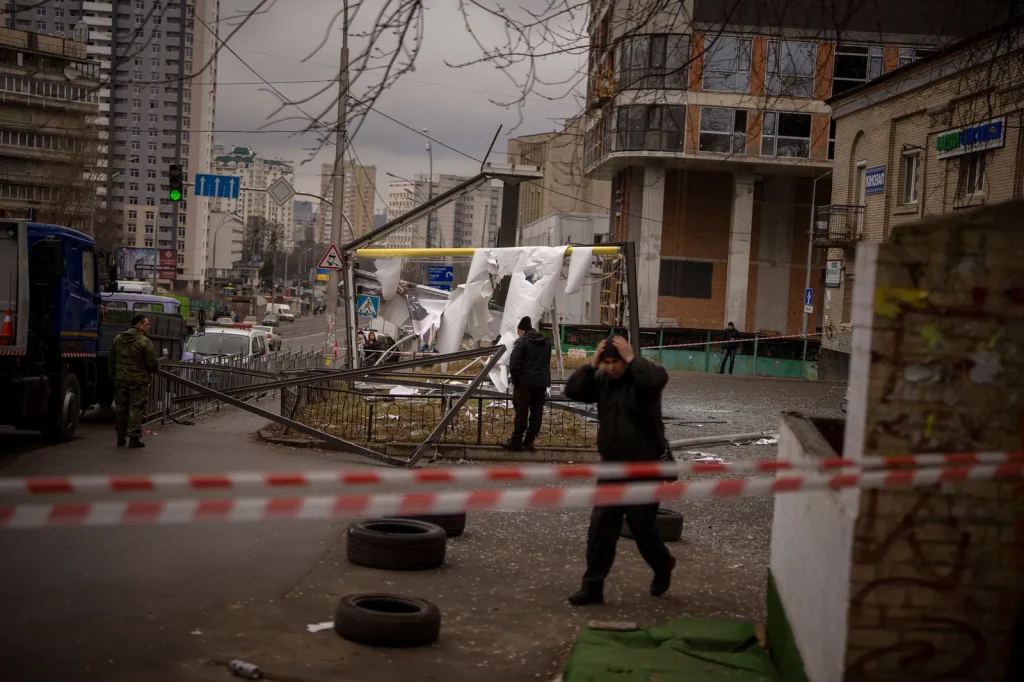 On the evening of 23rd February 2022, Alina came home from work to her husband watching the latest updates from Biden announcing that Putin would invade Ukraine within 48 hours. Alina says: ' I begged him to stop reading the news, we were overwhelmed with all the threats and chose to ignore it', until the next morning when they couldn't ignore it anymore.
It was an unforgettable sight for Alina, seeing four bold, red capital letters on the TV, 'Putin Began the War.' They looked outside their window, still feeling like normal life but the reality was that everyone was packing, preparing, and waiting for their transport. The air raid sirens began, explosions and bombs imploded in nearby cities. K1 regions of Ukraine were occupied by Russians and people were killed. Alina and her husband spent several nights in their basement unsure of where to go. ' It was very raw, dark, disgusting, and difficult to breathe. We knew we couldn't stay here for our health and survival.'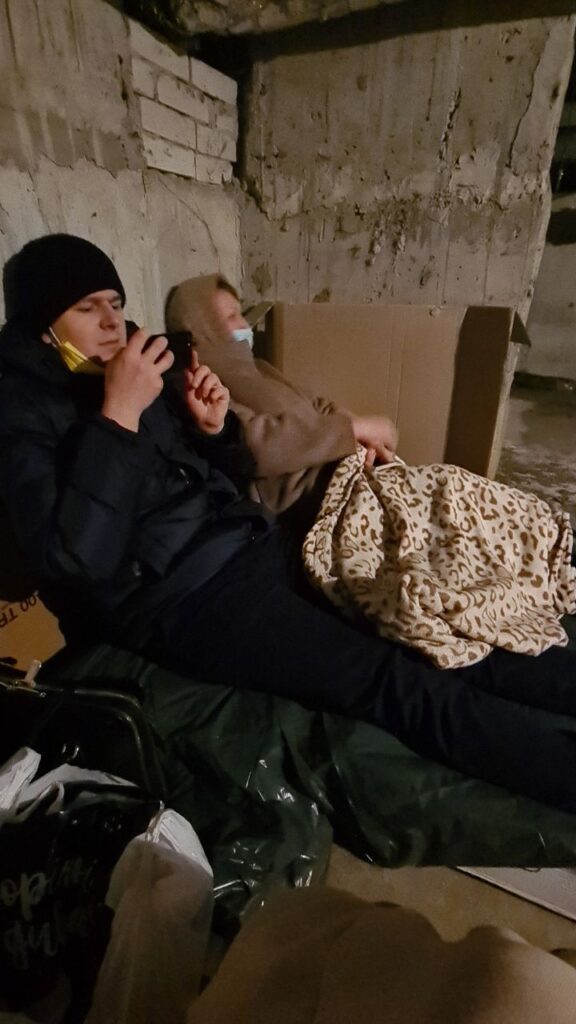 'I wore the same tracksuit for the first forty days of the War. I knew it was forty days because at the beginning of the war you counted every day, hoping it'll soon be over. It's now six hundred and something days- I've lost count.' Alina spent a total of 5 months in Kyiv until she started to search for her family. In the beginning she stayed to help Ukraine through editing videos about Russian soldiers and spread information across Russian social media: 'look at your husbands, sons and brothers killing our people. They are killing in the modern world.'
Alina eventually lost her job on TV because channels closed beside one mainstream. She thought travelling to England for a few months, knowing the language, bringing light to these killings and finding support from other countries will help Ukraine.
That was the plan until the conditions were unimaginable as Alina explains: 'Russia began to hit energy facility in Ukraine. It was cold. It was dark. It wasn't normal life.' The past was difficult for Alina to speak about wishing to have her life before the war, but this war is not equal opportunity.
Manchester has one of the biggest Ukrainian communities with vast opportunities for refugees such as free English lessons, charity shops for Ukrainians and local hub meetings. Alina moved to Manchester August 2022 after a sponsor family contacted her from Altrincham to come live with them. The Ukrainian community started a movement straight after the war in Piccadilly gardens every Saturday from 2pm-3:30pm where they rally and attract a huge amount of people supporting. Alina used the rallies to write and contact news organisations such as The Metro, to collaborate and share information about recent events in Ukraine.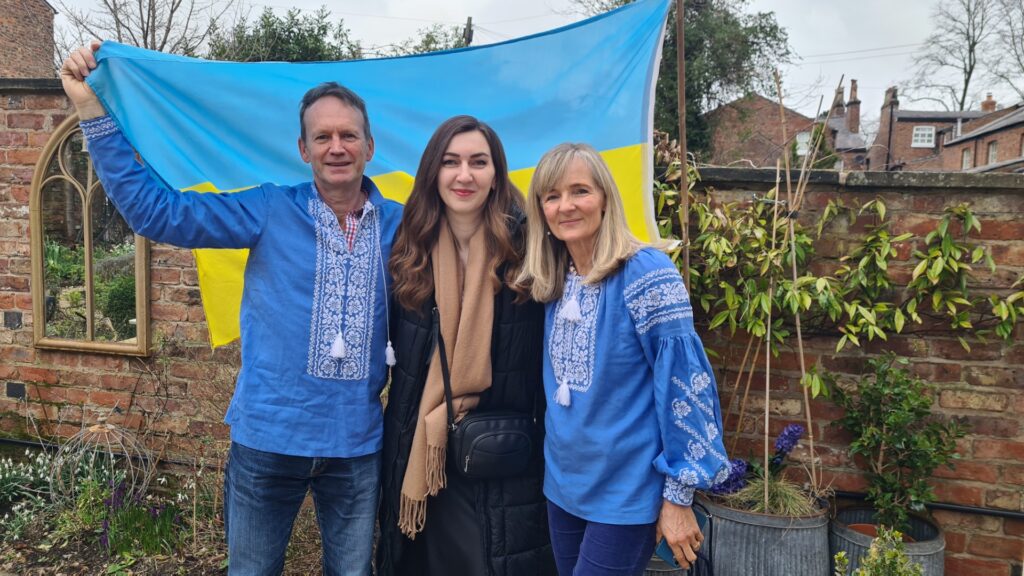 'The World should know about the brave Ukrainians who are doing an incredible job to resist Russian invasion. People should understand that Ukrainian people aren't only fighting for Ukraine but for the whole of Europe and we are very thankful for Great Britain, for all the support provided for refugees and soldiers.'
'Manchester Stands with Ukraine' was the beginning of the support in Manchester and has continued with Andy Burnham at the Ukrainian Culture Centre on Christmas stating: 'Manchester will stand with Ukraine for as long as it will take.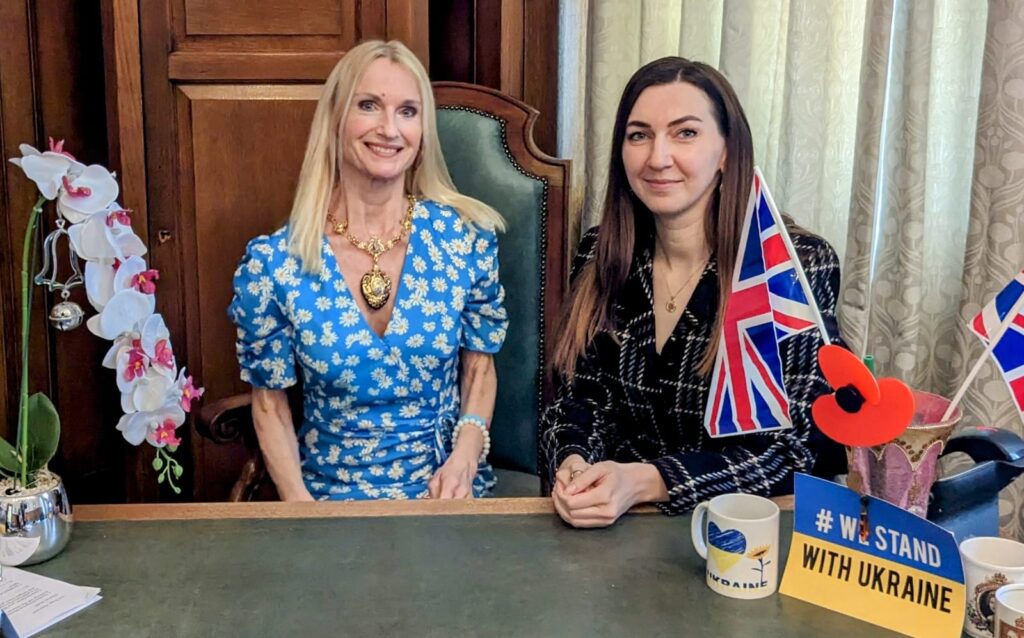 Ukrainians feel a force to draw the attention to society, people abroad, and international communities to the war. Alina explains: 'It is not only about the front line. We want to save our country, save our independence, save our culture, and our language.'
Manchester city council have also worked on 'Unite for Ukraine' to help refugees find jobs and settle over here and give them a sense of direction. Refugees can't go back home, and we can't imagine how it feels to not know what will happen to Ukraine. Support will give people hope that they will return home one day.
As a student, Alina created a short film on the revolution of dignity in the square of independence and it ended with the beginning of the Russian invasion. These are painful reminders for Alina of when the war began and her past career as a journalist, however her focus is to use these journalistic skills to spread stories, not just about those fighting but those whose fight's ended and are still in our memory. The rallies will continue in Piccadilly Gardens every Saturday and support Ukraine in their brave, long battle.
This cruel war is still going on, and the reality is very difficult. There should not be war in the modern world and these events still need to be on the news agenda; we can't let Ukraine vanish under the violence of warfare. These soldiers on the front line are our millennials, where their lives have just started. They've just started their careers, started to dream about something bigger, dream about happiness; how to achieve it, how to build on it and we can't stop supporting them and leave them alone in battle.