'Over the winter months the emergency departments looked similar to what I would expect in a war zone', says NHS paramedic
Industrial action taking place today (Monday) with picket line set up
Recruitment and retention of skilled staff, maintenance of patient safety and fair pay are some of the reasons for staff striking
UNISON members working in the ambulance service in five regions will be walking out while Unite the Union has agreed to provide 'life and limb cover'
Industrial action is continuing today (Monday) with strikes by public sector workers – including ambulance staff – for the third time in five weeks.
The walk-out includes paramedics, emergency care assistants, ambulance technicians, other 999 crew members and control room staff.
Unite union has put in place an agreement so that cover is provided to people = in need during the strikes and life-threatening 999 calls are answered to provide 'life and limb cover'.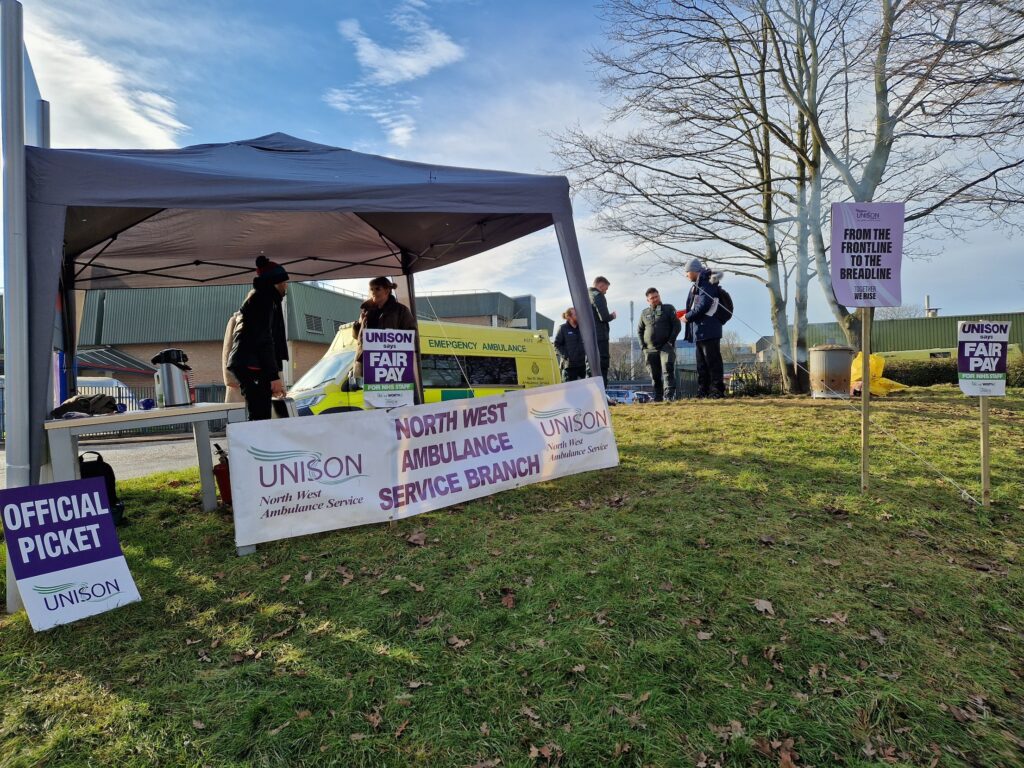 A last resort
Nick Hopkinson, a Greater Manchester paramedic who has worked for the emergency services for 18 years, said: "We're striking predominantly for pay for staff but in real terms that's a frontline service that we're struggling to provide at the minute. There's poor nutrition of staff, staff are leaving to go to other sectors not necessarily in health, but we also have staff that are going to private health care providers.
"That's the thing that bothers me the most really because if our own staff are going to private providers to get better pay, the NHS is still paying for that money. It doesn't sit well with me because no one should profit from the NHS."
When asked what the government can do to help, Nick said: "They need to listen to the staff that are doing the job and the no-negotiation is just stubbornness really. We've waited for an improvement of the NHS for years now. It's always been a promise. Even the Brexit deal suggested we were going to get money.
"Over the winter months the emergency departments looked similar to what I would expect in a warzone. You look around and you see your colleagues the nurses and consultants that are all under stress. It's not fair and that's what makes them leave."
Funding for NHS
Regarding the £350m per week funding promised to the NHS during the Brexit campaign, Nick added: "Well I've not seen where it is or what extra services it's providing.
"The departments a lot of the time are at capacity and we're using corridors as places to nurse and keep patients. That's not what they're designed for, they're designed to walk through, not to sit somebody in a doorway on a trolley and have them sit there for 13 hours because we have nowhere to move them."
Corridor care has become a major issue in the past few months for hospitals that are running out of beds and rooms for ailing patients.
Latest figures from UnitetheUnion.org suggest one in four ambulances are also waiting for over an hour to discharge patients to A&E. Unite says that its' ambulance workers are striking as a last resort.
'Compromising public health'
"Healthcare is not something we should compromise on as we all need it at the point of delivery and we need it to be there and available to us, not just when we have the means to pay for it," said Nick.
Health secretary Steve Barclay is drawing criticism as he is 'pitting nurses against patients', with the Royal College of Nursing branding the comments 'a new low'. This followed comments last week when he said he has concerns for patients' safety if nurses continue to strike.
Nick added: "I see colleagues that have to work a lot of hours a month and sometimes you can see it really takes a toll on them. That is just so they can survive – survive and feed their family."
In central Manchester, thousands of staff are due to strike at the Blood and Transplant Service site on Plymouth Grove today between 11am and 7pm.
Other picket lines in Greater Manchester are based in Audenshaw, Whitefield and Rochdale.