'The doors can open to get people out': Moss Side artist curates exhibit at National Football Museum
New exhibit in the National Football Museum, From Moss Side to Marseille: The Art of Michael Browne and Eric Cantona
The artist tells of the importance of the new exhibition and how it can inspire others
The exhibition is on display until June
A Moss Side-born artist has curated an exhibition currently on display at the National Football Museum in Manchester.
Michael Browne, 60, found acclaim painting sporting heroes in a Renaissance style and has brought his work together for this new exhibition – alongside footballing legend Eric Cantona.
The paintings have been on display for just over a month now and will stay on public display at the museum until June 2023.
From Moss Side to Marseille
Born in Moss Side, Michael does not shy away from embracing his birthplace to inspire others who come from the area.
He said: "It's important to show that there is a creative side to Moss Side rather than just a violent aspect. I tried to use the paintings to address that not everyone in Moss Side is a criminal.
"The doors can open to get people out. That's a message to younger kids, you can open the doors from where you're from to get to a world stage.
"The exhibit inspires children, it lets them know that things are attainable."
Michael proudly displays his hometown in the title of his new exhibition. Drawing on the connection between the artist and the footballer, he said: "Eric [Cantona] lived in the ghettos in Marseille, I lived in the ghettos in Moss Side.
"It's the same story wherever you live, the same struggles wherever you go.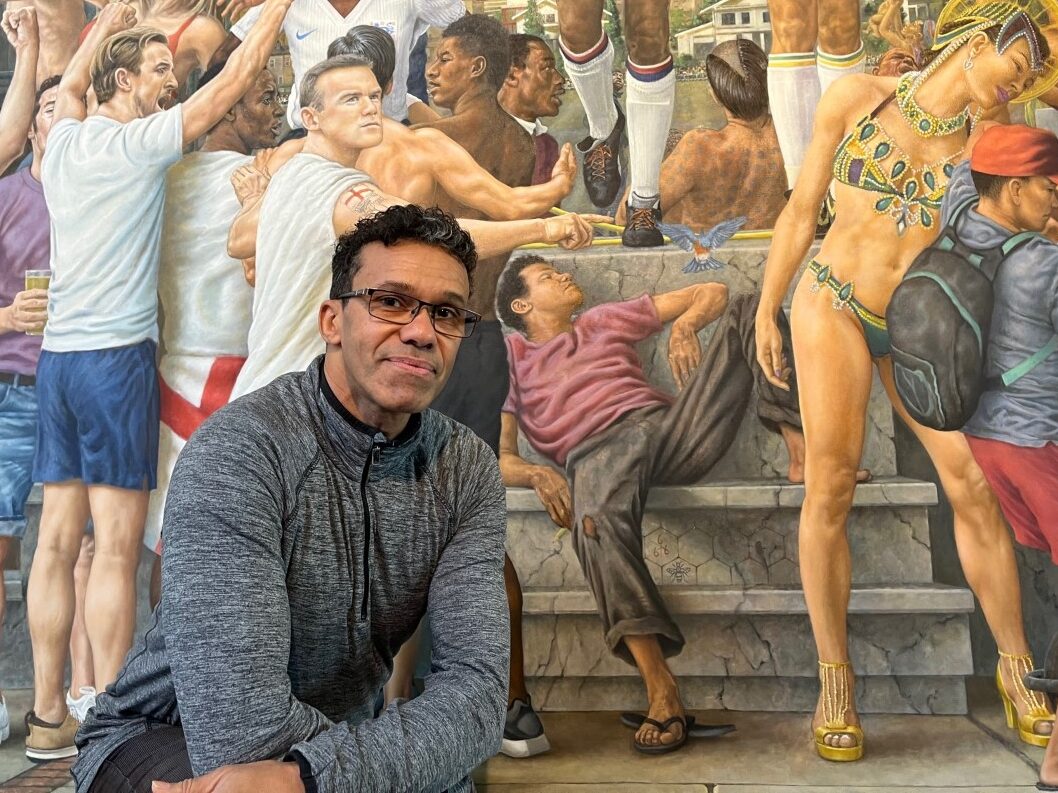 "All over the world you have these places that are labelled that can't break the stereotypes associated with the locations.
"That's how it built up, links between my background and his background. Places that are unable to break out from being typecast."
Working with Eric Cantona
Michael spoke of the relationship he has formed with Eric Cantona, saying: "We speak often. Eric is a huge fan, he collects artwork.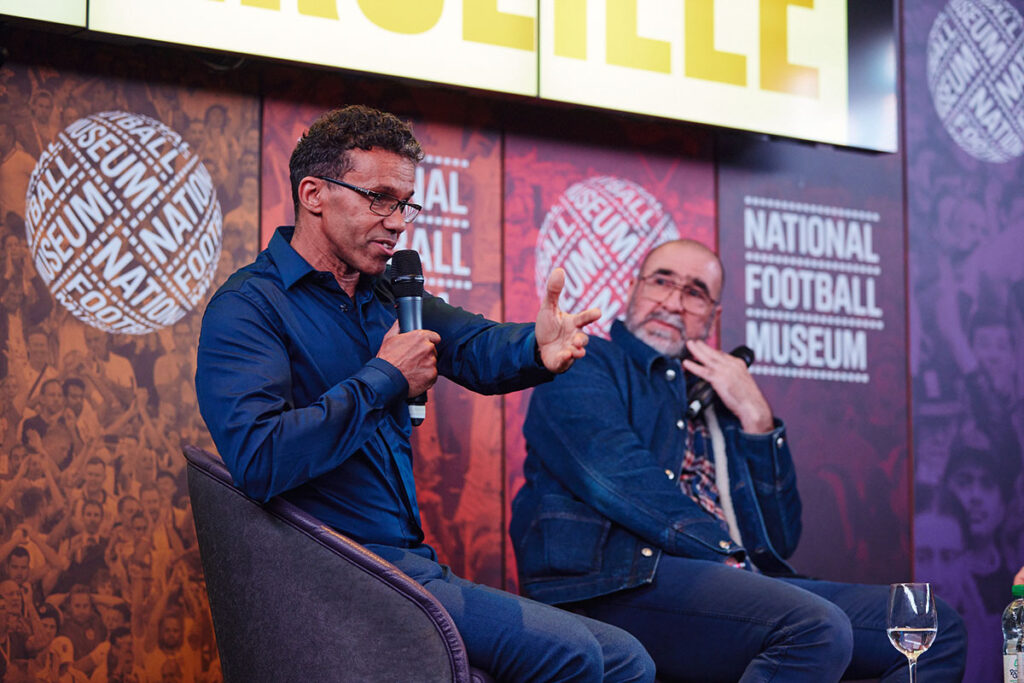 "He was an enigmatic character on the pitch – quiet and softly spoken. When he was whizzing around his brain was very active, he's a very intellectual bloke.
"He was mysterious, but we had something in common immediately, a kind of sensitivity was always there. With him being an artist, he's aware of his environment. Generally, he's a very warm man, a great guy to be with.
"I showed him the work at the time, he liked the politics involved in what I was doing. It suited him as well."
Michael's art
Michael began the exhibit with his famous painting, Art of the Game, which substitutes the image of Jesus Christ with Cantona in the classic painting, The Resurrection.
This piece caused controversy at the time. Michael said: "I painted it after Eric's Kung-Fu kick, I wanted to show his resurgence.
"I had Bible themes running through my work and political issues about the media behaving like judge and jury.
"It was dividing opinion because of the churches. A lot of them went against it because they thought it was blasphemous but I was just portraying the metaphor of a story of resurrection and resurgence in all manner of humanity.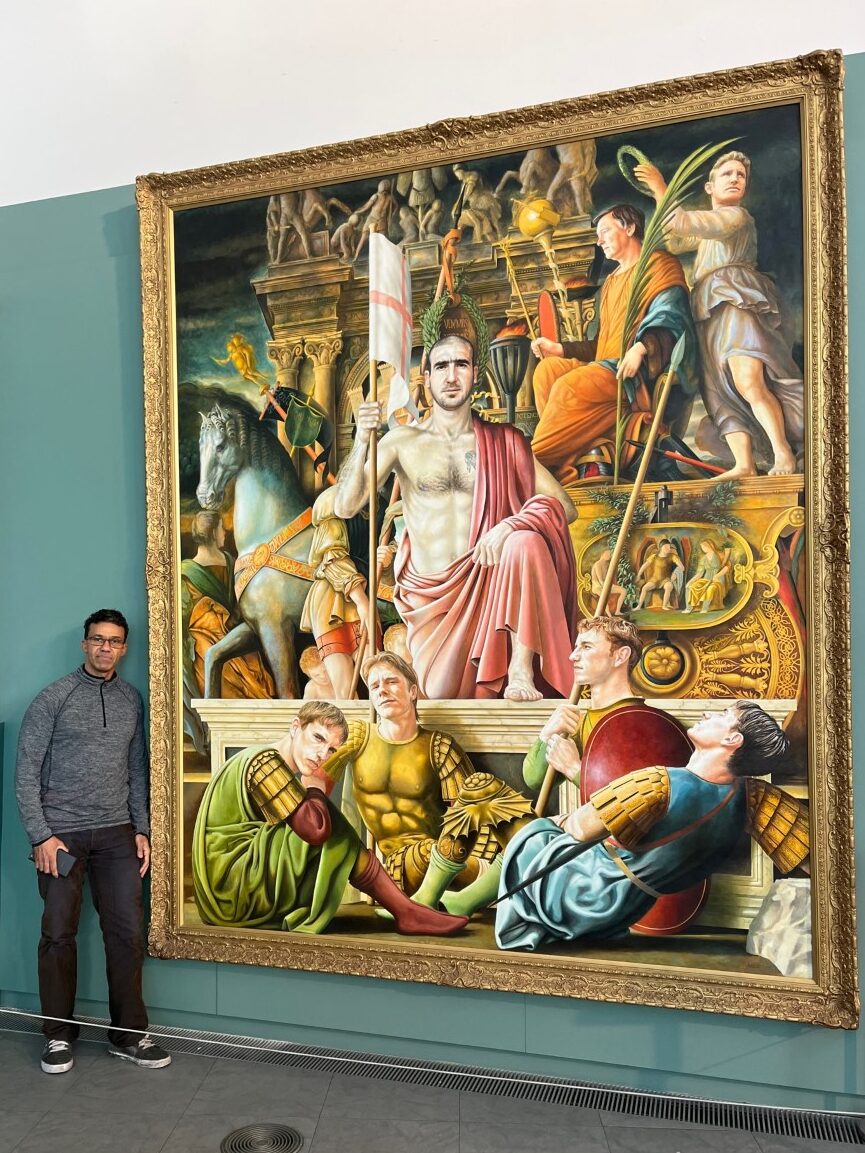 The paintings take between six and 11 months to complete. Each piece is enormous in scale with meticulous levels of detail.
Michael said: "It's got the spectacle factor, the entertainment factor, the narrative factor, and historical elements.
"I do this to reach a broader audience, from sports fans to art lovers, to people into politics so it covers lots of ground and brings people into the painting.
"I want to thank the National Football Museum for their acceptance and involvement in organising and displaying the exhibition, especially the gallery's curator, David Mansell."
The exhibition is on display until June 2023 – the exhibit is free with entry to the museum.