Lowry successfully bids £7.8m to keep Going to the Match painting
The painting by LS Lowry was up for auction at Christie's in London in October
The bid was made possible with the help of The Law Family Charitable Foundation
It has been on display at The Lowry for 22 years and has now returned
Featured Image – LS Lowry Going to the Match 1953 -Professional Footballers' Association, on loan to The Lowry Collection, Salford – The Estate of L.S. Lowry. All Rights Reserved, DACS 2015
---
The Lowry successfully bid to buy and keep LS Lowry's Going to the Match painting at an auction at Christie's.
The painting returned to The Lowry for display on Friday 25th November.
With the aid of The Law Family Charitable Foundation, the Lowry was able to return the painting to their collection.
Head of the foundation, Andrew Law, said that he and his wife, Zoë, were "delighted to have facilitated The Lowry's purchase of Going to the Match.
"This LS Lowry painting belongs in Salford on public view, close to his birthplace, where he was educated and where he lived. Place matters.
"LS Lowry's depiction of people attending a football match is just one of his many incredible genres of work, but it is undoubtedly his most iconic."
Jake Lindsay, 21, the youngest member of the Lowry's front of house team, said: "I'm so glad to have it on public display as I've only ever seen it on the internet, I've never seen it close up, so now I've got the opportunity to go up to the galleries and finally look at it in person.
"Having it back on our walls has led to one of our most popular exhibitions entitled 'It's Coming Home, an exhibition telling the story of this iconic piece of art and how it was saved at auction."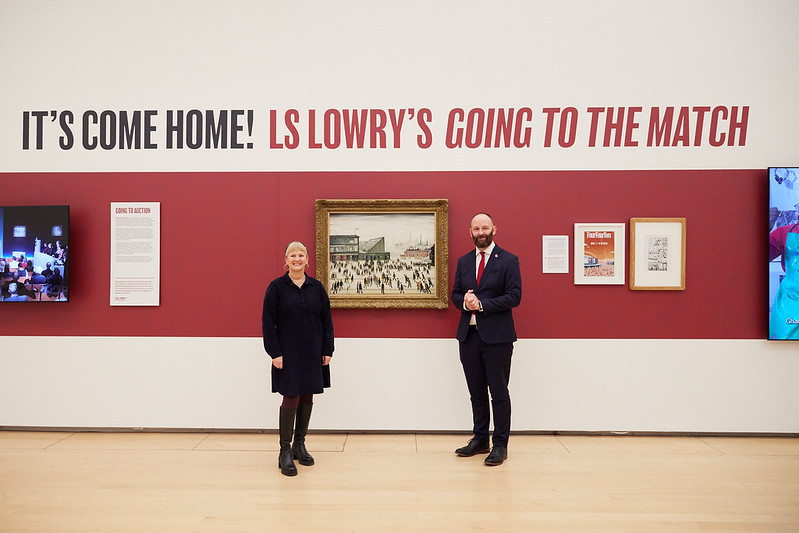 The painting, which depicts footballers, was sold to the Professional Footballers' Association in 1999 for £1.9m and has been displayed at the Lowry for the last 22 years as part of the world's largest collection of LS Lowry's works.
After the PFA decided to sell the painting, it was unclear whether it would continue to be displayed for the public or bought by a private collector.
This led to the Mayor of Salford, Paul Dennett, asking for help of anybody who could assist in raising the funds to put in a bid at the auction.
He also placed an export ban on the painting to allow time for the funds to be raised.
After the purchase of the painting, Paul Dennett said: "I am delighted our campaign to save this critical and important painting has successfully resulted in The Lowry securing it tonight"
"This painting was created in the north and belongs in the north and thanks entirely to the generosity of the Law family it is coming home to Salford where it should be.
"It is so important to have this iconic piece of art on view to the public for generations to come and I will be delighted to welcome it back."
Going to the Match is displayed alongside the rest of the LS Lowry collection in a gallery that is free to all visitors.