Accessibility is a real struggle for wheelchair users says disabled Chorlton woman
Chorlton
Manchester
Disability
Chorlton Resident Katy Daly believes Chorlton lacks accessibility for her as a regular wheelchair user
In England, the proportion of disabled people in the population decreased from 19.3% in 2011 to 17.7% in 2021. However, there was an increase in the total number of disabled people from 9.4 million in 2011 to 9.8 million in 2021

Katy's Story
Katy Daly, who was diagnosed with cerebral palsy, has lived in Chorlton for 26 years and been in a wheelchair since she was three years old.
Her main struggle as a wheelchair user is with accessibility. One of the issue she faces is cars which are parked on pavements, as Katy cannot manoeuvre around vehicles, especially when she is on her own.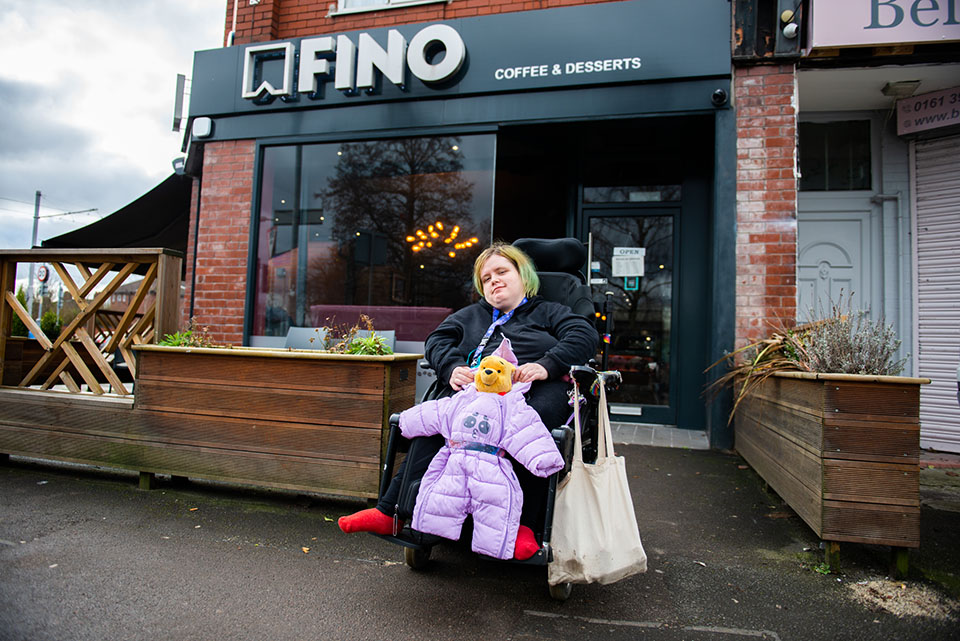 Wheelchair user Katy Daly
She said: "Pavements are a problem for me, and that's not really what I post about very often because I understand the council's problems. But then there are problems when cars are parked on pavements and because of the pavements, they're not drop kerbs.
"So I can't get down onto a road and go straight around. I have to go and find where the drop kerb is, get down there and then go round. So it's not as simple as just go round the car all the time.
"Once I had to go a good five minutes down the road because of a car to get around."
Katy's problem means she is endangering herself by going on the road just to get around a parked car.
"It's every day. I've dealt with this independently since I was 15, so it adds up. So these little things that are annoying to people, this is why everybody blows over because they don't think about it. But this is every day of my life," she said.
The worst day for Katy is bin day as people put their bins out for the bin men to collect. For her it is a nightmare because the bins are everywhere and she cannot just simply go round. She cannot move the bins when they are left on pavements.
She said: "Theses issues happen not just to me but everyone else who has disability. I am in tons of disability pages on Facebook and they are so used to it they do not say anything about it."
What is disability in the United Kingdom?
A disability is any condition of the body or mind that makes it more difficult for the person with the condition to do certain activities and interact with the world around them .
There are many types of disabilities:
Vision
Movement
Thinking
Remembering
Learning
Communicating
Hearing
Mental health
Social relationships
Katy's was diagnosed with cerebral palsy, a group of disorders which affect a person's ability to move and maintain balance and posture. It is the most common motor disability in childhood. and is caused by abnormal brain development or damage to the developing brain that affects a person's ability to control their muscles.
Eve Holt labour councillor for Chorlton told NQ
"I've walked around with a wheelchair user and agree there are lots of improvements I'd like to see in Chorlton to improve accessibility. To include improvements to quality of pavements, tackling pavement parking, decluttering the pavements eg removing A-boards. More dropped curbs. More pedestrian crossings. Generally keen to improve access & inclusion for all to include people with visual impairments and mobility difficulties eg with more benches / resting places, more shading, improved Wayfinding, safe cycleways. We are making progress but have a long way to go and need more investment via central govt."