"Writing is a lonely life, and meeting kindred spirits is balm to the soul": Meet the finalists of the 2021 Manchester Writing Competition
Winners of the £10,000 Manchester Writing Competition will be announced at an eagerly-awaited gala event tomorrow
aAh! Magazine catch up with talented shortlisted writers from this year's Manchester Poetry Prize and Manchester Fiction Prize
With less than a week before the winner of the Manchester Writing Competition 2022 is announced, there's no denying what this prestigious award could mean to any one of the accomplished writers being showcased.
Since Carol Ann Duffy (UK poet laureate 2009-19) introduced what has become the 'UK's biggest literary awards for unpublished work' in 2008, more than £200,000 has been awarded to an array of celebrated poets and short-fiction writers.
Open internationally for submissions from both practised and new writers alike, each year the competition offers a £10,000 prize for both the Manchester Poetry Prize for best portfolio of poems and the Manchester Fiction Prize for best short story.
With notable references to our post-pandemic world and the current political climate, thousands of entries from around the globe have been whittled down to the final 12.
Manchester Fiction Prize shortlist
Danny Beusch
Shelley Hastings
Sarah Hegarty
Leone Ross
Nicholas Ruddock
Naomi Wood
Manchester Poetry Prize shortlist
Courtney Conrad
Laura Paul Watson
Peter Ramm
Alyza Taguilaso
Jane Wilkinson
April Yee
Below are some of the skillful few in the run up to the big day.
Sarah Hegarty (Fiction): The Ishtar Pin
Residing in Guildford, Hegarty studied for her MA in Creative Writing from the University of Chichester while her sons were still small.
Since they flew the nest 20 years ago, she's been dedicating the majority of her time to writing novels and short stories, while also working with children as a writer in residence at George Abbot school.
She expressed her delight in being shortlisted: "I still can't believe I've been included in such an impressive group and wonderful community of writers. Everyone has been so encouraging and welcoming. Writing is a lonely life, and meeting kindred spirits is balm to the soul."
The inspiration for Hagarty's piece arose from watching news reports of war-struck civilians trying to preserve items of cultural importance.
She explains: "I wanted to explore the conflict between the legacy of an ancient civilization and the societal impulse for change – and sometimes, destruction. And I wondered what would happen if a family had to deal with this."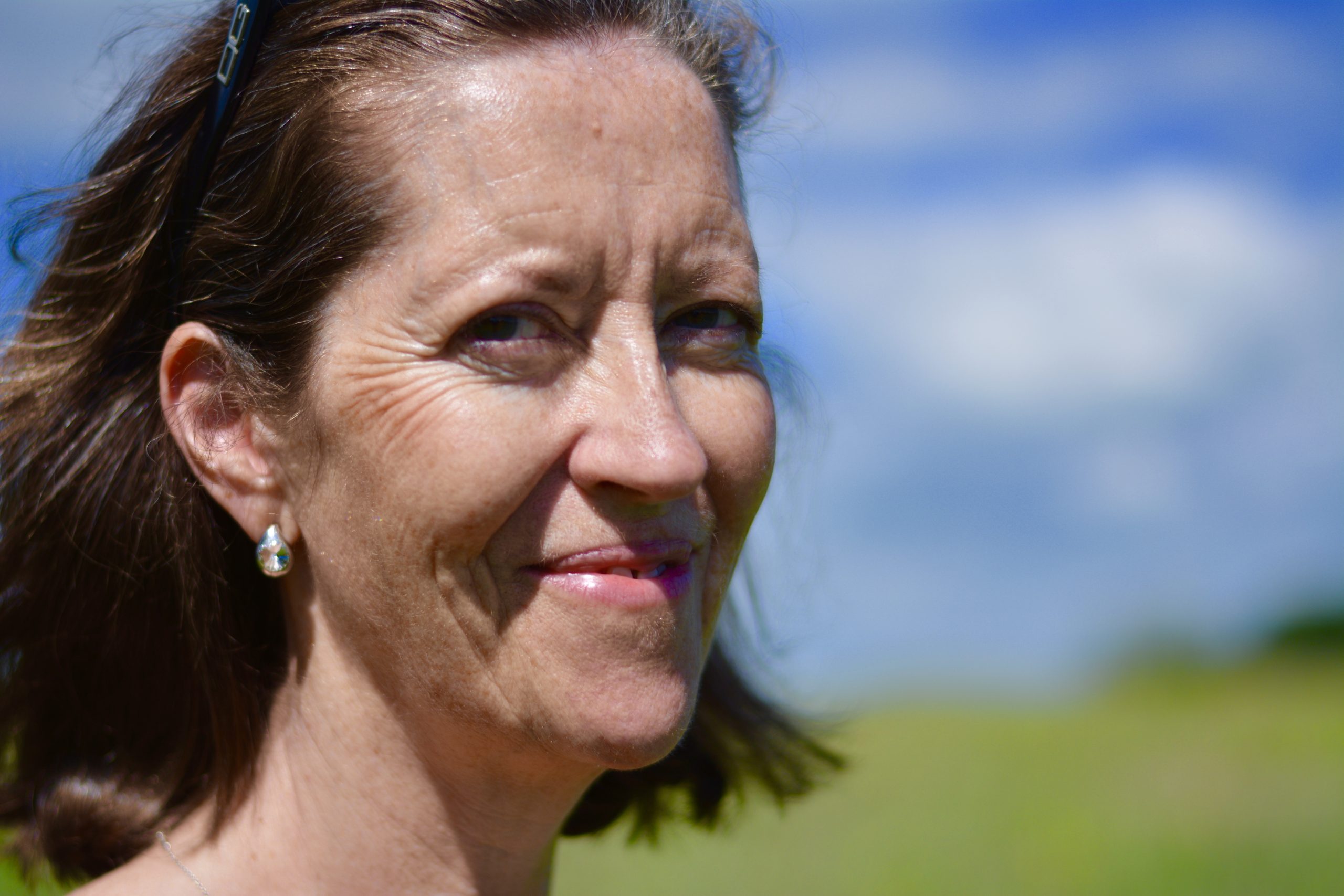 Among an array of short stories featured within varying anthologies, Hegarty recently celebrated her debut into non-fiction, which was published in the 100 Voices anthology this year.
She modestly refers to her "novels-in-progress" that have achieved first place or been shortlisted for awards, while humbly remarking that works submitted to other contests have gone "Absolutely nowhere!"
For aspiring writers, she fully endorses letting "fellow obsessives" read their work. "Develop your own sense of what you want to achieve with your writing, and pluck up your courage and send your work out.
"The long list is your friend. Someone, somewhere, saw something in your work. Hold on to that. Revise, revise, revise and keep going. It seems obvious but the biggest revelation to me was that spending more time at my desk improved my writing."
Read Sarah Hegarty's short fiction entry here.
Shelley Hastings (Fiction), What I Need To Tell You Now
Hastings lives in South London with her partner and two children. She's been published numerous times across print and online, in conjunction with small presses such as the Southword Journal, Thi Wurd, and the Mechanics Institute Review.
She's also earned several accolades for her work, including first place in the Seán O'Faoláin Short Story Prize and The Aurora Short Fiction Prize. Hastings is currently embarking on writing a novel, and has almost completed her debut collection of short stories, titled Can You Feel It?
"I have loved the excitement of being part of the fanfare for such an established prize. I'm really looking forward to the gala and hearing everyone read, while getting to celebrate together in person. Writing can be lonely. It also feels good to have my story out there in the world."
Hastings isn't short of hobbies outside of writing either, from swimming with her kids to "making crap pottery". She insists that activities like this are essential for encouraging creativity, as well as not dwelling on technique. "Get the words down and find the heat in what you are trying to say and let it grow from there.
She continues: "I wrote this story when we were starting to emerge from lockdown and I wanted to reassure myself that the shit would eventually subside.
"I found the loss of connection with people at that time hard and the digital alternatives very unsatisfying. I wanted to write about the grief of that, and of searching for meaning when everything around you feels like it's falling apart."
Read Shelley Hasting's short fiction entry here.
Danny Beusch (Fiction), The Firm
Beusch is an accountancy educator from Birmingham, who found inspiration for his piece from his unpleasant experience as an auditor. Within his story, he sheds light on the "stifling", "restrictive" and "judgemental" culture present within his former workplace.
"I think< as a gay man in a relatively conservative environment, I felt that particularly acutely," she says.
So when I see Twitter posts from big firms and companies bragging about their inclusive workplace culture, it makes me angry because I know for a fact that the reality is often very different.
"I tried to channel this anger and frustration into my story – using some surreal elements and a bit of humour to show up the hypocrisy of modern day capitalism.
Beusch began writing short stories in 2020, recently contributing to Confingo Magazine and earning numerous shortlisted and long-listed spots in several competitions.
He's an advocate of writing workshops as a starting point, noting how the opening paragraphs of The Firm were written in a session taught by writer Kirsty Logan.
"I think it's also important to write your story and then leave it – the temptation is always to submit, but you'll have loads of new ideas if you come back to it a month later," he says.
"To be on the shortlist for the Manchester Writing Competition is my biggest writing achievement by far. The other writers are incredible.
"It's always felt like a dream, a wish, a hobby. It's given me some confidence, and I'm hoping that will keep going when self-doubt creeps in, encouraging me to be more ambitious in what I set out to do."
Read Danny Beusch's short fiction entry here.
Nicholas Ruddock (Fiction), Sweet Boy
Recently retired as a physician, Ruddock lives in Ontario, Canada with his wife Cheryl, with whom he shares four children. Although not writing to share his work until the age of 57, he's been extremely driven since, with three novels and a book of short stories now published, and a children's book due in 2024.
"The inspiration for Sweet Boy was the ongoing epidemic of accidental opiate overdoses," he explains.
"It made me think of Prince, the musician, and all the vulnerable non-Prince types, who did not have his cultural cachet but who had to deal with the same issues. The story emerged in its present form after about twenty variations."
Winner of the Bridport Prize twice, Ruddock has also been shortlisted for the London Sunday Times Short Story Award in 2016 and the Moth Magazine Poetry Award in 2019. Outside of writing he's an amateur musician, art lover and sports enthusiast, notably hockey and cycling.
He advises a lifestyle of working a job outside of fiction writing, to sustain balance.
Offering guidance for writers, Ruddock suggests: "Do the work daily, get words down and don't worry too much initially about where you're going. There's always time to revise, but you need inventory."
Reflecting on becoming shortlisting and joining a community of writers as a result, he expresses fulfilment from sharing the experience with his fellow finalists, "[We're now] all in the same boat, after floating around on my own."
Read Nicholas Ruddock's short fiction entry here.
Alyza Taguilaso (Poetry)
Based in Alabang, Muntinlupa in the Philippines, Taguilaso is a doctor, currently carrying out residency training for General Surgery. Her love for poetry began before medical school, while obtaining her degree at Ateneo De Manila University.
She's thrilled by the prospect of being more widely read: "When I first found out about being shortlisted I almost didn't believe it. I think I laughed in disbelief."
Aside from literature, Taguilaso practices watercolour painting, enjoys playing video games and surrounding herself with animals. The latter played inspiration for her poem, Cactus Potato, which is "basically a poem about keeping hedgehogs as pets".
She's a proud career for "hedge-beests" herself.
Meanwhile, the rest of her portfolio is not so lighthearted, with her poem 'Suwerte' discussing a multitude of political and social issues, including fake news, threats to democracy and mistreatment of healthcare workers. Taguilaso expands, "It draws upon the idea of resilience, and how it's used to justify terrible conditions for my people. I want Flipinos to go beyond accepting that, when what they really deserve is fair pay and good governance."
Taguilaso's final submission, Agustina During the Last Week of October, was written the day her sister attempted suicide. She expresses her confliction between viewing illness from a professional viewpoint, versus how relatives perceive particular conditions to be shrouded in shame.
Overall, her advice to aspiring writers is clear cut: "Read, read, read, and then write." She's been widely published across print and online, from publications such as Fantasy Magazine, Strange Horizons and Kritika Kultura. Taguilaso also acted as fellow on numerous writing workshops in the Philippines, and more recently, she was shortlisted for the Bridport Prize 2021.
"Read comic books, read stuff by people you've never heard of, read menus, read instruction manuals, read pop-up books, read anything."
Taguilaso also suggests recording submission deadlines chronologically for motivation, and insists that writers should not take rejection personally.
"Last year, I had 24 rejections, two acceptances, and two pending submissions. Most rejections I've encountered come from the work not being fit for said journal or competition, so I think it's 70% a matter of finding the right home for one's pieces."
Read Alyza Taguilaso's poetry portfolio here.
Laura Paul Watson (Poetry)
Watson lives in Colorado, USA, and routinely immerses herself in the local writing classes. She details how some of her shortlisted poems "are the product of the encouragement of lead Mark Doty" and her supportive community of fellow workshoppers. Watson obtained her MFA from the University of Florida, and until recently, she remodelled homes alongside her husband, as a General Contractor.
"Aside from what feels like the constant insistence of the natural world to be included in a poem, illness, and recovery, has been a large part of my life lately, and so, it's been in my poetry," Watson explains, referring to her 2021 breast cancer recurrence.
She adds: "The last time I went through cancer treatment in 2018, I ignored my writing practice and resolved to plough through the surgeries and chemotherapy and radiation.
"This time, however, the 'through' is not guaranteed, and I knew I needed to find a way to live with cancer and all its uncertainty and hope. A poem allows me to condense an overwhelming emotion into a more knowable thing. Poetry makes cancer seem more manageable."
Watson has published her poems extensively, some in the upcoming spring issue of the Southern Indiana Review.
She also achieved second place at the Bridport Prize in 2016, and an honourable mention for Bellevue Literary Review Poetry Prize last year. Despite her accomplishments, she's "humbled" to have her work shortlisted.
"Poetry can feel like a very solitary practice. I sometimes forget there's an audience who I can reach [out] to and who reaches back. The Manchester Poetry Prize has reminded me of how supportive and far-reaching the poetry community is. Even though I haven't met the other short-listers, I feel proud to be in their company."