Woman flees regime in Iran to start a new life of freedom in Germany away from repressive regime
Refugee from Ian wanted to start a new life free from repression
She has now trained as a bus driver in Germany
Iranian women are not given any oportunities, says Maryam
Maryam Talebi is a 45-year-old Iranian who lives in Thüringen, Gotha, Germany.
She left Iran to ecape the restrictions placed upon women in the country, brutally witnessed in the current uprising following the murder of Mahsa Amini.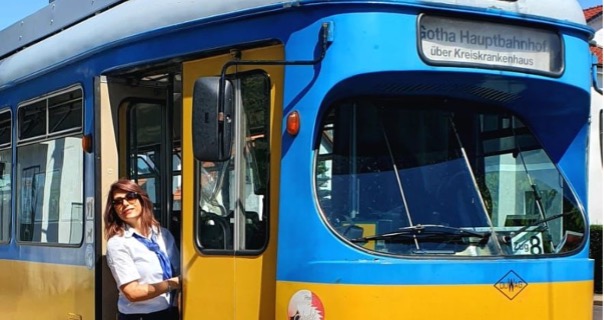 Maryam spoke to the Northern Quota about her new life in Germany and the freedom it has brought her.
" I migrated to Germany in 2018. I was married and have a twin boys," she says.
"In Iran, I was suffering from the restrictions and cruelties upon women and couldn't see any paths of progress in front of me. I tried so many jobs, but the masculine society was clogging me all the way through.
"I decided to move away and start a new life, for me and my family."
She has been separated from her husband for four years and lives with her twins.
She says that even though they moved to the West, her husband still held traditional Iranian views and wanted her to take a domestic role and not go out to work.
Living in new society with new people has given Maryam motivation to prove herself.
"I wanted to show my abilities and prove that women don't need men's support to be promoted and succeeded.
When they saw my passion and ability they offered me the tram driving course'

Mariam Talebi
"I loved tram driving and I wanted to become a tram driver, but I was new in the country and didn't know how to start it," she says.
She applied for a job as a tram driver in Germany but the authorities declined her application. They told her that the job is too difficult for a woman and doing the relevant procedures would be expensive.
"Once they saw my resistance and insisting, they offered me to pass the bus driving courses to become a bus driver. I accepted because I wanted to prove myself," she says.
Maryam passed the driving courses and became a bus driver.
Motivation
"When they saw my passion and ability they gave up and offered me tram driving courses. I was over the moon. I didn't believe it.
"Thanks to the passengers who left the good feedbacks for me", she says.
She said being a tram driver is even a rare job for a woman in Germany.
"Germans, especially German ladies give me motivation to go through my job's difficulties. They are so nice to me.
"I wasn't given this feeling from my home country, even from Iranians here," she says.
Maryam believes everyone should cherish dreams, believe in their self and not giving up.
She says: "Migration is difficult, especially in higher age, but hope and motivation can make it easy.
"I couldn't imagine to see myself at this stage of success in four years of migration. But I did it because I wanted so. This is just the beginning for me. Future is much brighter than this."