Withington pub landlord runs Manchester Marathon for bleed kit charity
Paul Mitchell, of The Victoria pub, ran the Manchester Marathon in support of Mero's World
Mero's World funds and installs life saving bleed cabinets around Manchester
The charity was sat up in honour of Rhamero 'Mero' West, who was murdered in 2021
The landlord of a Withington pub has ran the Manchester Marathon in support of a local charity, Mero's World, that campaigns to place lifesaving bleed safety cabinets on the streets of Manchester.
Paul Mitchell, who runs The Victoria pub on Wilmslow Road in Withington, was one of 28,000 runners on Sunday, 16 April.
Mero's World
Paul chose to run for Mero's World, a charity that was set up by Kelly Brown following the tragic loss of her son Rhamero "Mero" West, who was killed in a stabbing in Trafford in September 2021. Kelly launched Mero's World in Rhamero's honour, to fund an install bleed kits across the city. The kits are housed in cabinets that can be accessed via a code obtained from 999 operators, and are used in events of catastrophic bleeding including knife wounds, car accidents and other incidents. The tools within can help make the difference that will keep a victim alive in time for paramedics to arrive.
"Kelly is an incredibly strong lady. We got to know her through a customer of ours who put us forward to have a bleed cabinet installed on the outside of the pub" said Paul.
"After hearing Kelly's story and the importance of these bleed cabinets we felt that as a pub we could raise money for more boxes to help keep the streets safer. This is important for generations to come, as sadly the use of cabinets is becoming more and more necessary".
The Manchester Marathon
Paul chose the Manchester Marathon for his fundraising. Every year, participants race 26.2 miles across the city, often in support of good causes.
"Manchester is an amazing city and is so friendly. It is both where we live and where Mero's World is based. It also meant my little boy, who is six, could come along and join in the fun too".
"Before running pubs I served in the British Army so running was quite easy for me. I first did the Manchester Marathon eight years ago – though I've got older and drank a lot of Hyde's beer since then! I trained for three months, combining running and gym work at the local Withington Baths".
"Marathon day itself was amazing. Everyone talks to each other as you wait to start. The support along the route is amazing, there's people giving you sweets and high fives to keep you motivated and the final stretch to the finish line is incredible".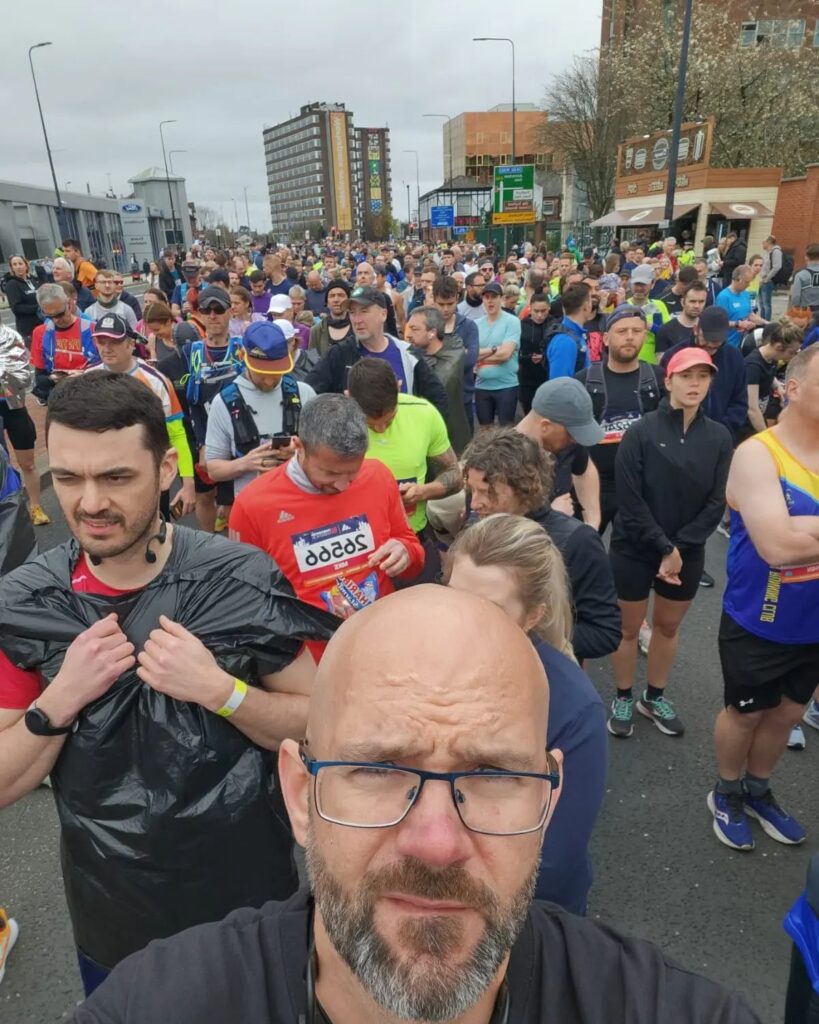 "There's people of all ages both running and supporting. The support that you get from other runners though is nothing short of incredible and really does keep you going".
Paul's sponsors combined with a raffle held at the pub over Easter have so far raised over £1400 for Mero's World. The bleed kits cost around £500 each to assemble and install, so Paul and the rest of the team at The Victoria are continuing their efforts to raise money.
"We will be holding more raffles and events at the pub so anyone can still donate by popping into The Victoria. Who knows what our next challenge may be!".

Mero's World has also recently secured funding from the Greater Manchester High Sheriffs Police Trust, to continue saving lives on the streets of Manchester.

Members of the public can donate directly via a JustGiving page.