'When will it end?' Commuters grow weary as Aslef train drivers stage another strike
Additional reporting by Makenna Ali, and PA Media
ASLEF train strikes across Manchester cause chaos
Local business express frustration about ASLEF strikes
Commuters affected by ASLEF train strikes
ASLEF train drivers staged a city-wide strike today, causing chaos for commuters and businesses.
ASLEF strikers arrived at Manchester Piccadilly Station at 7am and stayed until the strike finished at 3.30pm.
Strikers are demanding an 8% pay rise, claiming that inflation has risen by 20% in the last four years.
They say that there is no trust between the union and the government because the government is attempting to twist their efforts to promote a better work environment and experience into a political dispute.
ASELF union member, Roger, said this was the first strike intended to target a major political event, the Conservative Party conference. This was due to negative accusations that ASLEF purposely targets other events, which they denied.
Pay rise
The union said the train companies made a multi-million pound profit in the previous fiscal year, and rewarded the management with bonuses. Roger told NQ that the offer "was not a pay rise, it is productivity".
Fellow striker Martin said train drivers have to pay for their own pay rise, as train companies expect them to be available 24 hours a day, seven days a week.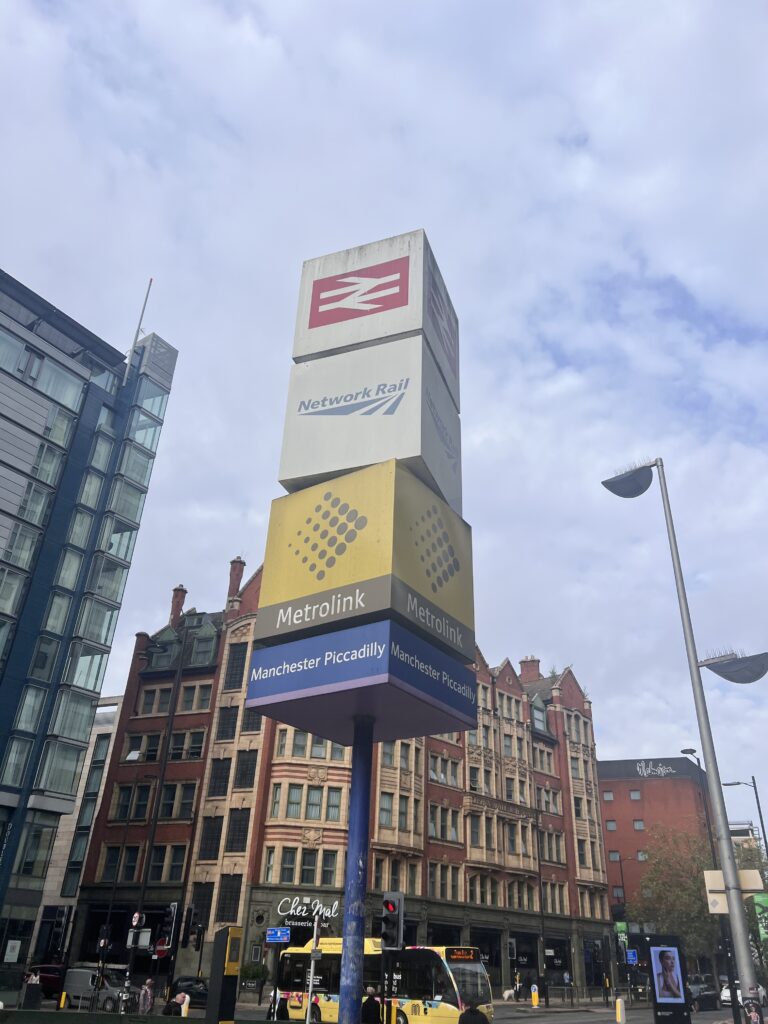 Both strikers were adamant on expressing, "We are strong, we will carry on forever."
ASLEF workers are not the only ones frustrated with the prolonged rail strikes. Employees at local businesses in the train station are also exasperated regarding the situation.
Local business affected
The manager at Pret a Manger said: "The rail strikes have had an extremely big impact on our business. Our guys are losing a lot of hours, and we have lost 95% of the sales due to the strikes. On top of that, people's jobs are at risk. All of the retailers are offering redundancies now."
When asked if she supported the rail strikes, her response was "absolutely not". The manager added: "We get where they are coming from, but after one-and-a-half years people cannot come to a consensus, there is something wrong.
"It's always the people on the lower level, such as employees and businesses that are being punished. In our station. There were probably 200 employees affected by the strikes right and we;ve had enough". 
Chaos for commuters
Offshore worker Assim travels often and has been affected multiple times. In contrast to most individuals Assim stated: "I'm the minority when things like this happen – I just take advantage of it because work is quite intense."
He said he supported the rail strikes and empathises with ASLEF. However, he though that the railway apps and commercial websites should make people more aware of the industrial and strike actions for those who do not watch the news and are not on social media. 
A spokesperson for the Rail Delivery Group said: "There is a deal on the table for Aslef that would take average driver salaries to £65,000 for a four-day week – that's more than double the average UK salary and many drivers top up their income further by working overtime.
"We are ready and willing to talk to Aslef's leaders so we can end this damaging dispute – but any talks about pay also need to address working practices that date back decades.