'We are trans and we are human' chant Manchester trans rights protest in the face of adversity
Protest organised in response to Rishi Sunak's recent comments
Teachers, parents and friends come out in support of Trans peers
Trans youth's mental health is a huge concern
Crowds of protesters filled the square outside of Manchester Central Convention Complex on Sunday in support of the trans community.
The protest was in response to Rishi Sunak's Conservative conference speech in which he said "a man is a man and a woman is a woman", referring to it as "just common sense."
His comments have been met with outrage across the LGBTQ+ community, with Trans Pride Manchester organising this protest at the same location the Prime Minister made his comments.
'We are being used as a political pawn, we are a scapegoat'

Arlo (they/them), one of the organisers of the protest
One of the organisers, Arlo said: "I hope it gives the message that we are not going anywhere, we are here to stay."
They said that despite the negative rhetoric currently circulating in the media, the protest proved "there is still resistance and joy."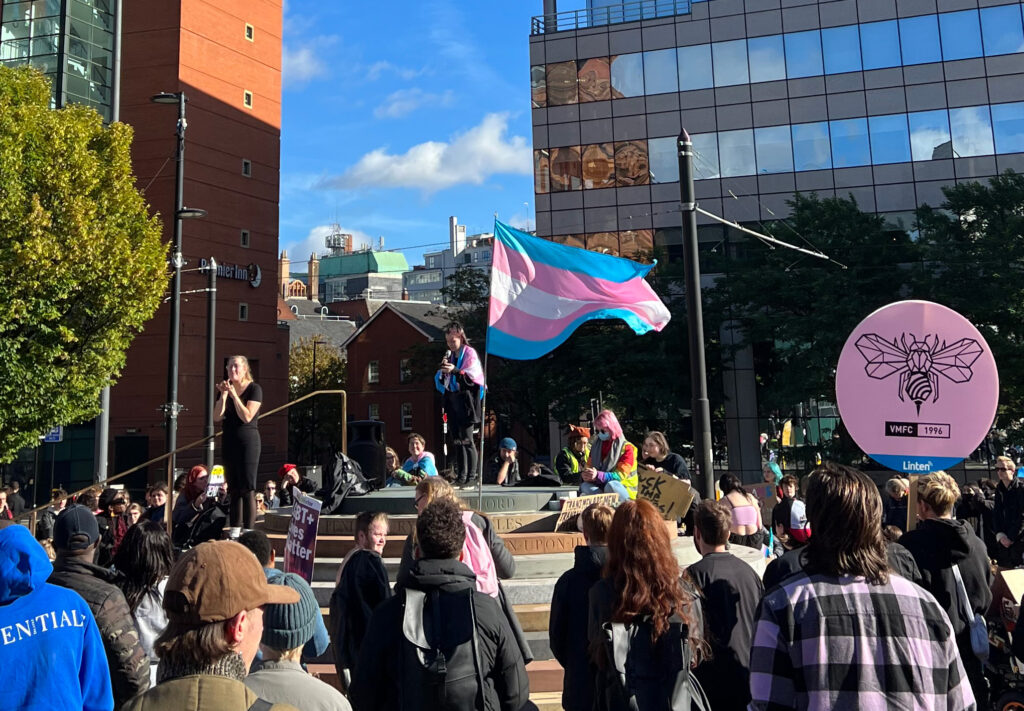 Arlo said of the government's anti-trans comments: "We are being used as a political pawn, we are a scapegoat for wider problems. Ultimately, we've been used before and we'll be used again.
"When we all come together like this, it has a huge impact. We're fighting bigger and better than ever before and it's not going to stop us living our lives."
Speakers
An overwhelming number of attendees at the protest did an address to the crowds regarding the Conservatives' plans to roll back trans rights.
'It's very easy to feel alone when the government is rolling out legislation to restrict our rights'

Protestor at Manchester's trans rights protest
A teacher spoke against the Conservative party's wish for schools to out their pupils if they are seen to identify as trans.
He said: "Teachers don't go into this job without having a duty of care for all children and we'll do everything to support trans kids."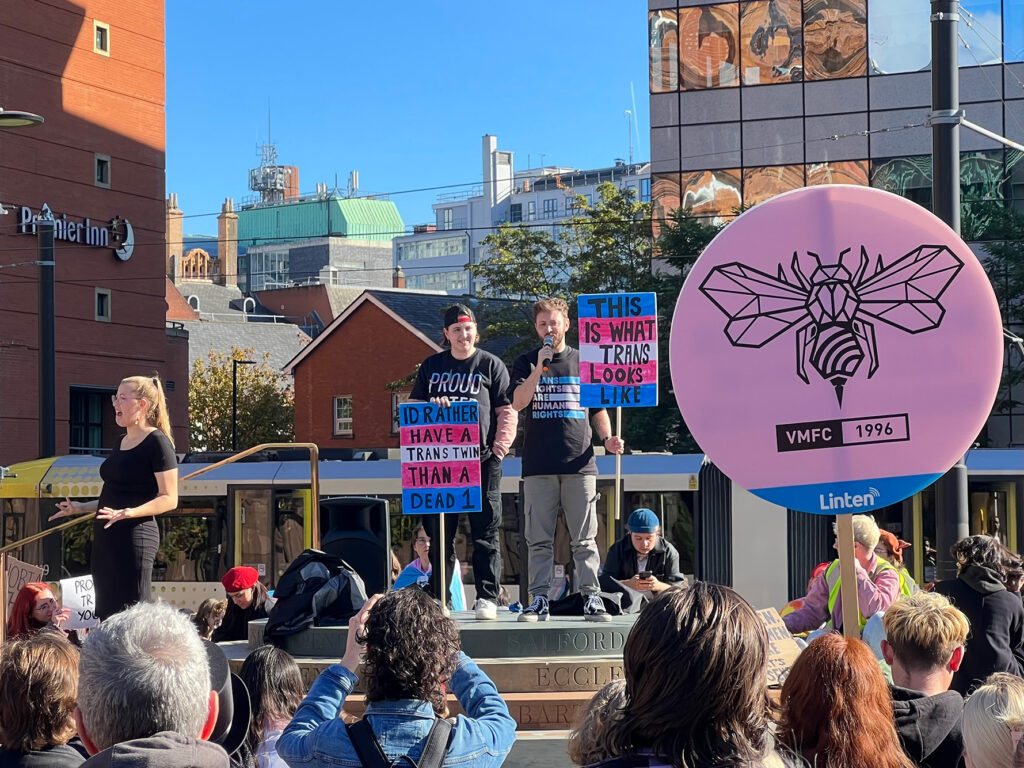 Two twins also spoke at the protest, Ashley and her brother George Evans, who is a trans man.
"It makes me emotional standing here as I never would have pictured this 10 years ago," George said.
He shared his experience of the workplace and his goal of educating people about being trans. He said trans people don't want to be "a statistic for HR" but rather "go into the work place and feel comfortable to be yourself."
One protester said: "I came because it's very easy to feel alone when the government is rolling out legislation to restrict our rights".
According to Stonewall, 84% of trans young people in the UK have deliberately tried to harm themselves and more than two in five trans young people have attempted to take their own life.

Trans organisations
At the Conservative party conference, the government expressed plans to segregate trans patients from cis-gender patients in hospitals.
Bex Shorunke from trans youth support charity, Mermaids said: "The government's attempts to prevent our access to single-sex spaces despite zero evidence of trans people being a threat, and their attempts to prevent our ability to live authentically by socially transitioning in schools, is part of a wider strategy to essentially strip away the rights, protections and autonomy of trans people, that are an undisputed given to others.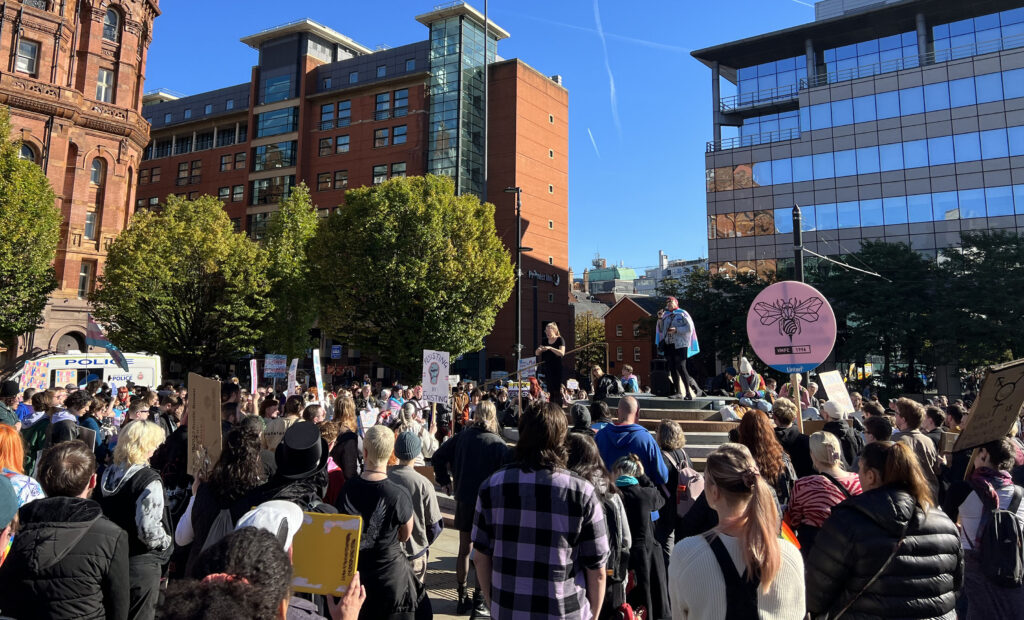 "The end product is a society in which the persecution of trans people is legitimised, as demonstrated by the year-on-year rise in transphobic hate crime and the steady increase in online bullying".
According to the Home Office, hate crimes against trans people have increased by 186% over the past five years. It said transgender issues being discussed by politicians 'may have led to an increase in these offences'.
A protestor said, "The protest is proof that we have always been here and will always step up for change even when it feels impossible."