Trees Not Cars continue their campaign for green spaces in Ancoats due to health fears for local children 
Ancoats environmental group continues its campaign for green spaces
The group highlights the impacts a lack of green spaces is having on local school children's health
More is needed from the council to help tackle the problems, says climate group Co-founder
Trees Not Cars, an environmental group in Ancoats are calling for green spaces in the city to help tackle air pollution. The group has been advocating for these changes since 2019, when the council originally planned to make the former Central Retail Park a public car park.
Over the last three years, the council has announced a strategic regeneration framework for the former retail park, stating it would include some green space. However, Trees Not Cars said it was not enough and has highlighted the lack of consideration for the needs of residents.
Julia Kovaliova, local mum and Trees Not Cars campaigner said: "We think local councillors should be raising air quality issues consistently at Council committees and meetings. The area where we have been campaigning since 2019, Ancoats, is situated next to Great Ancoats Street. Which is famous for being one of the most polluted roads in the country!
"We were vocal about these issues. Local councillors should be listening and doing more about attracting the attention of the city council. Our main task is to get more green space to the area and Manchester city centre overall.
"It is a widely family-populated area with the school and nursery. All families live locally, and yet another office district is proposed on the publicly owned land. Next to the school which would benefit from a safer expanded play area and a proper park."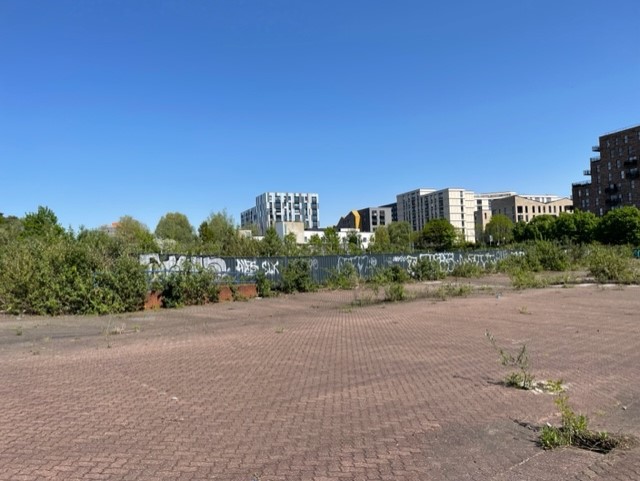 Health concerns of local children
The drive behind the campaign is the proximity of the retail park to local school, Co-op Academy New Islington School. The school is 0.3 miles away from the retail park. Many members of Trees Not Cars have highlighted the lack of green spaces for children to play safely.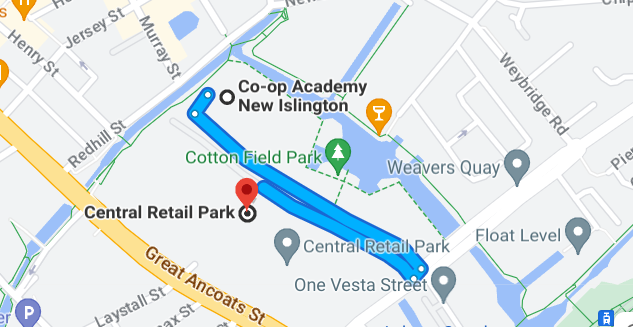 The main concern for many parents is the increase of young children developing asthma and other breathing problems. Children are more at risk than adults of developing asthma and other breathing problems, when in heavily polluted areas. Trees Not Cars are calling for green spaces so local children can access fresh air and therefore, decrease the level of pollutants in Manchester.
"My son Maksim, who has been suffering from Asthma ever since he was 7 years old, has been going to Co-op New Islington Academy Primary School. He told us the number of inhalers kept by school for kids with asthma grew throughout his school years."
Air pollution In Manchester
In March 2023, Manchester World found that all 57 neighbourhoods in Manchester were above the national average air quality score. This is according to data published by the Department for Levelling Up, Housing and Communities (DLUHC). Picadilly and Ancoats was named the highest polluted area, due to their proximity to Manchester city centre.
Manchester City Council said in a statement on air quality in Manchester: "Currently we are within the acceptable limits for all of these pollutants except the annual concentration of nitrogen dioxide, which regularly exceeds the objective. Nitrogen dioxide levels are particularly high in the city centre and close to busy roads."
The excessive pollutants in Ancoats and neighbourhoods nearby is an issue previously highlighted by local group, Ardwick Climate Action. The group conducted a closure of the A6 late last year to show the impact of car pollutants to locals.
Co-founder, Daniell Musaheb highlights the changes that need to take place for Manchester to tackle the problem.
'More is always needed when looking at ways cities can further address the causes and consequences of air pollution. Change starts with the people'

Daniell Musaheb, Co-founder of Ardwick Climate Action
"The consequences of air pollution on Manchester's population are undeniable. For instance, Manchester has one of the highest rates of emergency asthma cases in the UK. The city sees over 1200 excess deaths attributed to air pollution.
"Working with nature, planting hedging and creating green inlets that act to absorb pollution is a great way to help. But action is needed at policy level too. We need safer public transport and green routes.
"Poorer areas are often the first to be affected, but the last to receive help. They are in desperate need for greater levels of funding in order to catch up and access city planning."
To find out more about the campaign, you can visit Trees Not Cars here.