Fear of serious injury stops rugby game at Platt Lane with Man Met women ahead 28-17
Three tries by Amy Williams put Man Met Women 28-17 up against Liverpool before the match was stopped in the 63rd minute due to a serious injury to an MMU player.
Katie Mellor was injured as she tried to prevent a Liverpool try that cut the deficit to 11points as the visitors fought back in the second half. She was injured on the try line and referee Peter Mitchell stopped the game with 17 minutes left as it was considered too risky for her to be moved. It's likely the result will stand.
Amy received on-the-spot treatment from team physio Naomi Simpson and Platt Lane staff but remained lying on the pitch covered up for between two to 2.5 hours until an ambulance could take her to hospital.
MMU´s coach Adrian Moffatt said: "In the tackle Katie has gone to keep the ball up as it was on the try line, and basically the pile has fallen on top of her, on her back and on her neck. She's got all her sensations: it was very precautionary, but we couldn't move her and so the game had to be cancelled. Her safety is paramount.
"It really was a game with two halves. Liverpool had the momentum in the second half. We started very well, and within the first 20 minutes got two tries and we dominated, especially in the set-pieces and in the scrum. In open play, we played as we do: it's heads up, go and attack. I'm pleased with the way this side is developing, and I believe we still have another one or two per cent in some areas."
He also had words of praise for hat-trick scorer Amy Williams, who was as strong defensively as she was in attack.
"Amy had a great game. Give her an inch of space and she'll literally run the length of the field. Not just that, but she folded a couple of girls in defence and took them back five to ten yards, which gave us an advantage. Also Willow Bell controlled the game brilliantly at fly half, and kept the tempo up.
"In the middle of the park Emily Downs and Katie Moore did the grunt work so to speak, and they did it effectively, putting us in the front foot again, sometimes from nothing. I'm really pleased with the way things are going."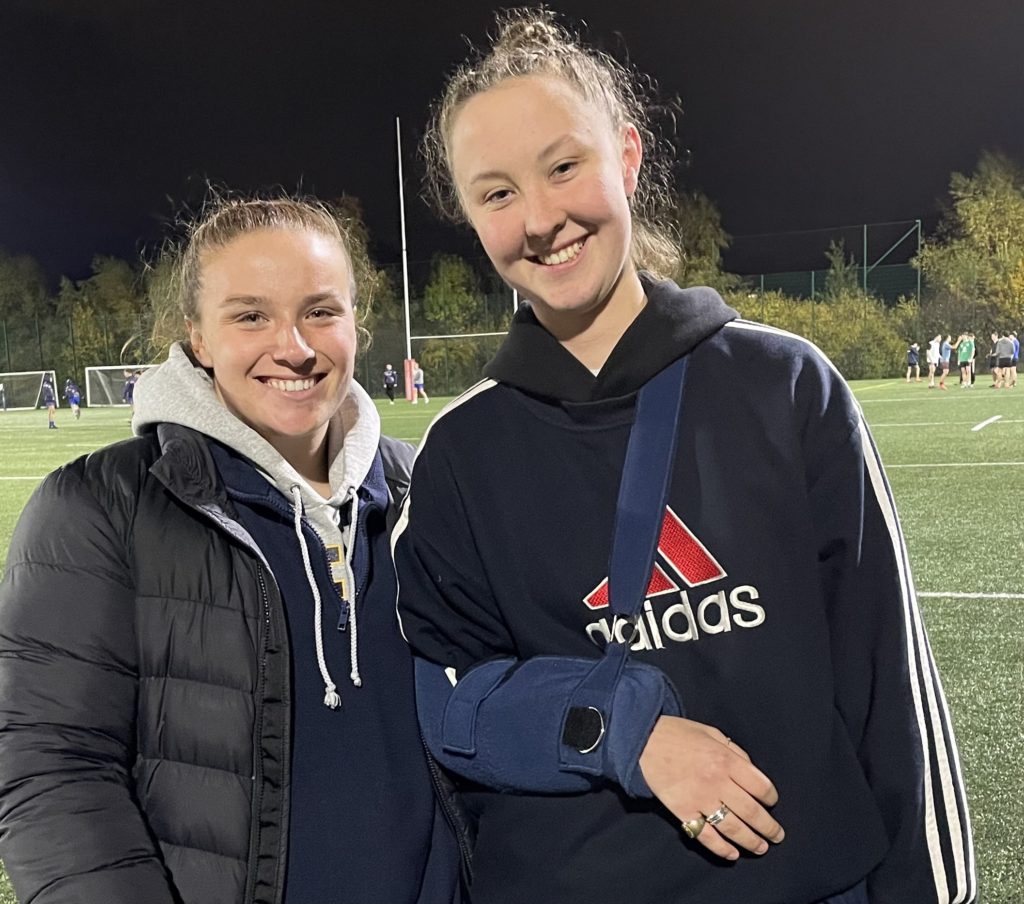 Liverpool's coaches Maz Ridgway and Coral Butterfield were upset the injury ended the game.
Maz said: "We are obviously worried about the player as it's not an injury we would want anyone to suffer. It was just disappointing, because we kept coming back and coming back in that second half. We were winning that second half, and by the end of it we could have won the game."
Coral agreed with her co-coach: "I definitely think our second half was much stronger than our first. We spoke to the girls at half time and we worked so much better as a team in the second half. I hope the MMU player is OK and everyone sends their best wishes."
Katie Mellor was in her first game back after an injury. Three weeks ago she was co-commentator for the Man Met vs Sheffield game for Matchday Live with presenter Ed Tucker. Tonight, Ed said: "I'm shocked to have seen her lying there injured when we worked together on the last game. Katie is a lovely girl and I hope the injury is not that severe. We all send our best wishes."