Semi-final spot for MMU Futsal after convincing Matchday Live win over Leeds
MMU 12 Leeds Beckett 7
Watch the game here: https://www.youtube.com/watch?v=5PONX_BJFb8
MMU Futsal racked up a convincing win over Leeds Beckett to secure a semi-final place in the Northern Conference Cup.
Seven of the ten-man blue and orange squad got on the scoresheet in an impressive victory with Jake Barnes bagging a hattrick and Scott Froggatt and Jamie Villareal all netting twice. Both teams played aggressive, committed futsal, with seven yellow cards through the game. The win means MMU Futsal will have home advantage in a semi-final against either Liverpool John Moore's or Keele, possibly next month.
In the first livestream from the upgraded Matchday Live studios at Platt Lane, Sports Journalism students Benjy Golaub and Ed Tucker commentated on a frenetic first half as MMU built a 10-4 lead by the interval. The second half was less high-scoring but despite dominating possession, Leeds could not claw back the difference.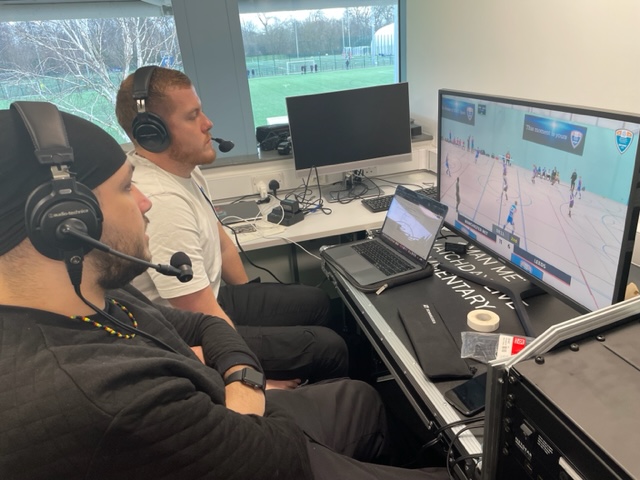 After the game, MMU Futsal player and chairman Kieran Williams said: "Team spirit is very high at the moment with only one loss this season. That's translating into good understanding on the pitch and everything that we're doing in training is coming into our game massively.
"We're delighted to make the semi finals and even happier to be coming back to Platt Lane. Come down and support the blue and orange!"
The next game in the second season of Matchday Live is on Wednesday 25 January with a 1pm men's rugby game and women's football at 5pm. If you'd like to be part of the team, either editorially or technically, please email [email protected].
Look out for a double-page spread on Matchday Live in the forthcoming edition of Aah Magazine.