'New style of rugby' developing as Zimbabwean internationals boost Man Met's promotion aim
'New style of rugby' developing as Man Met set promotion target
Pre-season training is a chance for Manchester Met's rugby team to renew old acquaintances, welcome a new intake of players and gel on and off the pitch. Players dust off their cobwebs and aim to get back into top physical shape. After the summer break that can sometimes be a long haul, says captain and third year Business Management student Oli Powell, but everyone is focused on the tasks.
"We've lots of new faces – lads just starting at uni, top quality players from Zimbabwe and the Netherlands, and everyone's bringing loads of energy and enthusiasm. We set standards from day one, and we stick to them. We all get here early, we all get in the zone, and we have a rule: no negativity!"
Led by their experienced coaches, they embark on a journey of sweat, strength, and strategy. From intense drills to tactical game simulations, every moment is an opportunity for growth. Defence coach Fergus Mulchrone, a former elite professional with London Irish and Sale Sharks, and who is now Academy manager at Sale Sharks, instills a rock-solid defensive mindset in the team, ensuring they stand strong against any opponent's advance. At the other end of the pitch, the vastly experienced attack coach Graham Higginbotham trains his forward line to build strength, resilience and determination.
First XV captain Dirk Bruil, a towering Dutch Under-20 international is about to start his second year in Sports Exercise Science, but he has used the pre-season week to deliver an important messsage to his players: promotion is the target.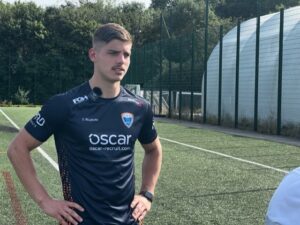 "I want us to get this team as high up as we can go," he says. "The new guys have mixed in and bedded in very well this training week, and if you were a spectator I don't think you'd know the difference – and we have more new players to come. The goal I've set for this year is promotion from the BUCS Premier North."
Behind every successful rugby team lies a rigorous strength training regimen and a dedicated team of physiotherapists. The Manchester Met rugby team knows the importance of building a solid foundation of strength and maintaining peak physical condition. Helena Walker, who graduated two years ago from Manchester Met University with her expertise in sports medicine and rehabilitation, she provides essential care to keep the players in top shape. From hands on treatment to tailored exercise programs, they ensure that any injuries are quickly addressed, and the players are back on their feet in no time. In the weight room, strength and conditioning lead coach Andreas Sergides makes sure that these athletes push their limits, lifting weights and performing explosive exercise to enhance their power and agility on the field. From squats and deadlifts to bench presses and plyometric drills, their strength training is designed to maximize their athletic potential.
Among the new faces, and the first of the international recruits from Zimbabwe, is 21 year old prop Tomu Msasanure, who is studying Biomedical engineering. He's been playing rugby since the age of eight, and says the game's philosophy in Africa is very different. With several international teammates arriving soon to join Rob Jones' side, he's looking forward to adding some Zimbabwean flair to the Platt Lane game.
"Here, the pitches are narrow and the game is very aggressive and confrontational," he says. "Where we come we think about space; we want to run the ball, to keep you guessing. That's what myself and my fellow internationals are trying to bring here: a bit more pace, a bit more flair, a bit more guesswork – we're trying to make the other team think, because now they're going to be seeing a different type of rugby that they've never seen before, and it's going to be very difficult for them to compete."
Get ready to witness the power, resilience and unwavering commitment of this new-look Manchester Met Rugby team as they kick off their campaign against Newcastle at Platt Lane on October 4th. This is just the beginning of their push for promotion, and they all know the hard yards start on the training ground.
*The game will be the first of the new season to be shown on our university sports livestream Matchday Live.