Residents decry deplorable living conditions, quip whether they live in Europe or where
Resident reports situation to council
Gang of boys terrorising neighbourhood
Broken glass on playground everywhere, dog faeces everywhere
Manchester City Council Press Office refuses to respond
Residents of Manchester City Council housing in Moston have decried the spate of insecurity and deplorable living condition which made one resident query whether they were living in Europe or somewhere else.
Each resident around Joan Street and Attleboro Road has a different side to poor living conditions in the neighbourhood. According to them, dirt filled the area, dog faeces, children smoking weeds, a band of gangs operating, and security threats.
A resident who preferred anonymity said someone had attempted to snatch her phone while she was coming out of her apartment. She said: "The environment is not clean, no safety. I reported to the council. One night someone tried to snatch my phone right in front of my apartment."
Another resident said there was a notorious gang of youths terrorising the neighbourhood. According to him, this group specialises in bursting in at the slightest moment any property is left unattended.
He said: "Once, I had some children enter and ransacked my car. I picked up my children from school while I was helping them to get inside this gang of boys jumped in everywhere. They are all over in the alleyway smoking."
A new resident who chose to be anonymous claimed: "There is a lot of break-in in the area. Look at dirt everywhere. Are we living in Europe or where?"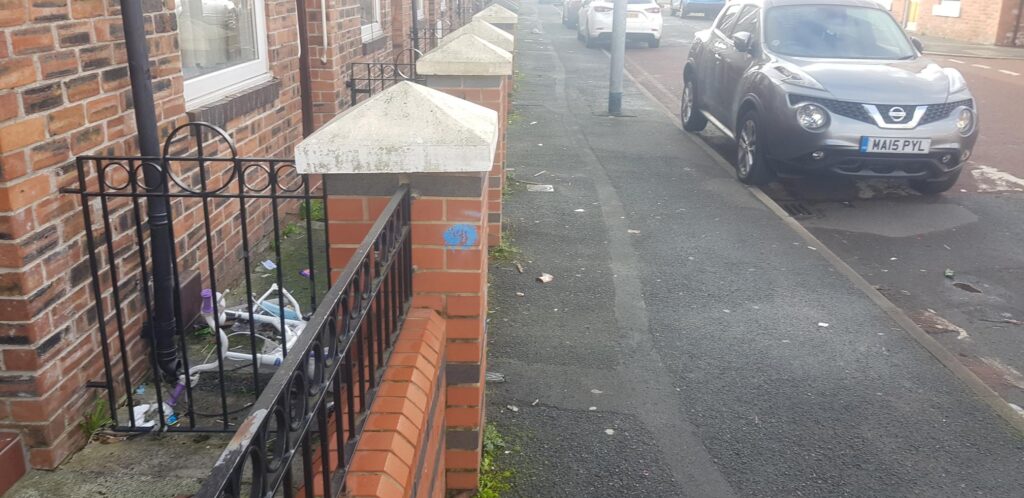 A mother living opposite a children's playground stated that there was broken glass everywhere on the playing ground when she moved into the neighbourhood. She noted that she notified the council about it when she moved in, but the council just packed the broken glass from the children playing ground. She said the main issue was broken glass in the children playground.
"They have just recently cleaned that up. But people are always still breaking glass there."
She observed that the trend played out for the whole year she has lived in the apartment.
She added: "There is broken glass everywhere, dog faeces everywhere, there is rubbish everywhere in the alleyway, you have kids smoking weeds outside, and you have police officers speeding through here".
Northern Quota observed that many apartments have no occupants. Some vacant apartments have disuse household items and children's toys at the entrance. These items compound the sanitary condition of the environment.
Manchester City Council declined to comment.