Record audience for Matchday Live's return as new-look Man Met Rugby snatch late win
by Edward Orsborn
A team of volunteer student broadcasters and production staff notched up record viewing figures for the first game in the second season of the University's sports livestream Matchday Live.
An absorbing and physical Prem North B encounter between Man Met Rugby and Newcastle 2s was tied until the last few minutes, with the lead having gone one way, then the next, with Man Met scoring their first try after just 18 seconds. Newcastle fought their way back to level pegging at 31-31 before Man Met's physical dominance won out, and they ran out 43-31 winners at the final whistle.
Among the new names to watch for this season is Zimbabwean U-20 international Tomu Msasanure, solid at the back, confident with his handling and not afraid to push forward to support the attacks. Man Met showed great strength in the scrum with accurate passing and powerful runners, and dominating in the line-out.
Describing the action in her first time in the Matchday Live commentary position at Platt Lane was Halle Parker, a former player and coach, with expert insight from Man Met back row James Phillips, currently out with an injury.
Said Halle: "It was a bit of a baptism of fire as the game was so intense and swung one way then another, and there was plenty of action to commentate on. It was a really intense match, and both Man Met and Newcastle gave it everything, but the superior fitness and experience of Manchester Met showed in the final stages to get them the win. Bring on next week!
Next week's featured Matchday Live game is Man Met Rugby at home to St. Andrews, which is always a gritty encounter. Join the live stream for the build-up from just after 4pm with kick-off at 4.30pm. Follow the link: https://www.youtube.com/@MMUSport1/streams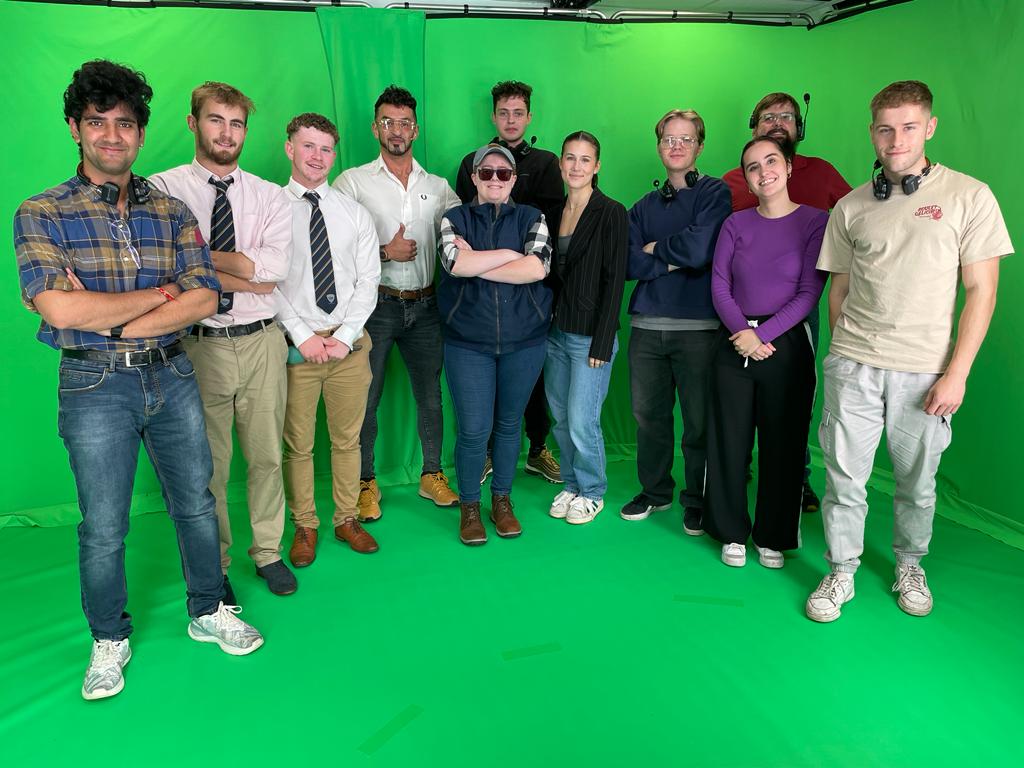 The Matchday Live production team (above) features students from across the university disciplines, with film-makers, Sports Management and Journalism undergraduates working together to put out a 25-minute preview show presented by Reza Resamand and second year Journalism's Dorthe Berger (left and right of Halle Parker, centre), with injured winger Jack Ingram providing the punditry. Social media specialists Sam and Millie fed action pictures to Instagram, Twitter and Facebook with a record audience of nearly 2,500 viewers, some watching in Canada, Australia and Zimbabwe – no doubt keenly watching Tomu's debut in Man Met colours with more fellow internationals due to join soon.
Matchday Live coordinator Sam Heitzman said: "It was an eventful game and our team covered it really well, considering the commentators, pundits and presenters only met an hour before the kick-off. The production was seamless and that's very impressive with a whole new team. The viewing figures are amazing, and that's very encouraging for our second season. We're looking to build support for the show online and of course at Platt Lane with some great players featuring in our netball, basketball, football and rugby union fixtures before Christmas, so please tune in or come down and get behind our sides."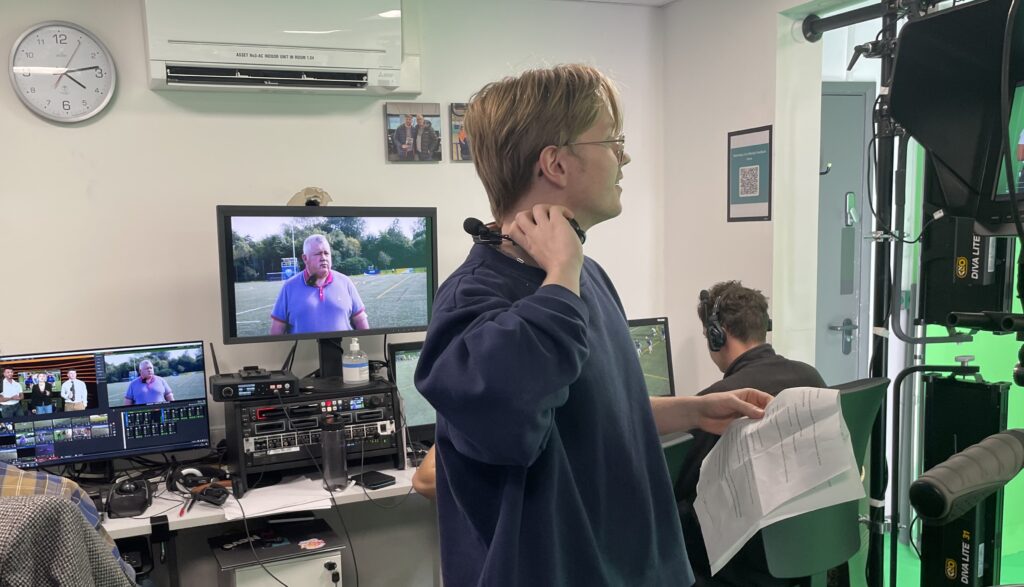 (Eddie adds): "I'm a second year Journalism student wanting to specialise in sports journalism, and I got the bug for live broadcasting with Matchday Live last season. This was my first game producing the output. The work started last week writing the scripts with Reza and Dorthe to introduce preview interviews with the rugby coaches, backroom staff and players, then make sure everything was smooth in the rehearsals from the autocue in the hour before transmission. The secret I'm finding as producer AND floor manager is communication, and making sure everyone in the team – which includes vision mixers, camera crews, presenters and pundits – know what's happening next. There's a lot to remember, but I'm looking forward to the next show!
The picture shows Eddie producing the preview sequence and preparing to cue the presenters for the next segment. Pictures: Vince Hunt.