Picketing CWU workers say strikes will continue unless Royal Mail makes a new deal
Members of the Communication Workers Union picketing at the Royal Mail Manchester Sorting office have said unless the company shareholders reach a new agreement with their leaders the intermittent picket lines will continue.
The meeting expected to broker a truce between the picketing workers and the company is taking place between Royal Mail shareholders and Communication Worker Union led by the leader, Dave Ward. The Area Processing officer at Royal Mail Manchester Sorting, Paul Clarke expressed optimism in a chat with Northern Quota. Clark said: "He is meeting with the shareholders to put our view before the company and hopefully get an end to the strike action. Get us back working, delivering boxes".
He however stated that the recurrent strikes will continue "Until we win and until we get an agreement".
Speaking to Northern Quota on the picketing line Clarke claimed that the company told workers: "They don't have any money left for us". In his words, this was after Royal Mail paid out £500 million to shareholders at the end of the last financial year. He reasoned whether the company would have paid out that much if its' finances had been that bad. He also alleged that the company claimed to be losing a million pounds daily.
He said the two percent pay rise that the company was offering "Is not good enough". According to him, workers would be having a nine percent cut if the Royal Mail succeeded in the two percent increment when inflations are as high as 11 percent.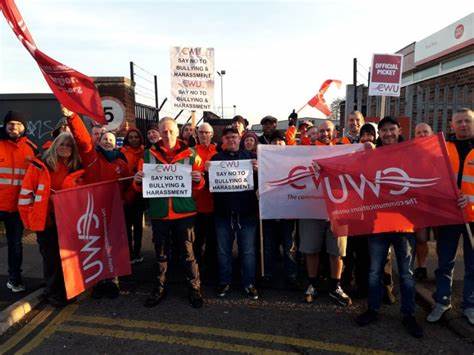 He believed the staff have alternative ideas of making money for the organisation. He stated that the company can leverage its infrastructure to provide other services to the public. According to him: "There are a lot of ways we can go instead of us becoming parcel sorting. We can deal with the public, we can help visit people out at their homes, take care of them, and check on them. These are services we can offer".
However, Royal Mail in a statement said it has: "Well-developed contingency plans, but we cannot fully replace the daily efforts of our frontline workforce." It also promised customers: "We'll be doing what we can to keep services running". It pleaded with them saying: "We are sorry for this planned strike action is likely to cause you some disruption." The CWU still has further plans to picket on December 23 and 24. In an open letter to customers, the CEO, Royal Mail, Mr Simon Thompson said: "You're sending 60 percent fewer letters than you used to, and the number keeps falling." He claimed that the postal company offered workers a nine percent pay increase in the last 18 months.