Parents, students and fans gather for an afternoon at the lockdown rugby league
NQ speaks to fans at Manchester Rugby Club on final day of the lockdown rugby league
Saturday was the last day of the lockdown rugby league.
Manchester Metropolitan played Manchester Rugby Club in the final game of the season.
The lockdown league, which has been running for the past six weeks, was an opportunity for players to get back out on the field and prepare for the upcoming season.
Nestled away in sleepy Cheadle Hulme, the rugby club is a pillar of a community that, like others across the country, has been flipped upside-down by the coronavirus pandemic.
On a hot June day, I spoke to people from all walks of life: spectators, club members, parents, grandparents, referees, coaches, and students.
The first person I spoke to on Saturday was Marshall Gadd, head coach of Manchester Rugby Club.
A former pro rugby player, Marshall has been around the game his entire life.
After a career-ending hip replacement, he entered the world of rugby coaching.
"Coaching is completely different to playing," he said.
"I was beginning to fall out of love with the game coming to the end of my career.
"Rugby can become very regimented. You're told where to be at specific times.
"Gym, training, lunch– it's all planned out.
"Being able to coach in my own more relaxed style helped me fall back in love with the sport."
As it did for most, lockdown took its toll on Manchester Rugby.
"It was a tough time for everybody, " said Marshall.
"People were out of work and struggling with isolation, so we left people to it.
"We would monitor people on our Whatsapp group to make sure people were alright or needed support.
"But we just looked at the bigger picture– some things were bigger than rugby."
For Marshall, the biggest thing that the lockdown league gave was a feeling of normality.
The league was different for a number of reasons. Scrums, for example, were removed from the sport.
Players were also required to sanitise at half-time, and the changing rooms were off-limits.
Despite being a rugby purist, Marshall had nothing but positive things to say about the league.
He said: "I thought the league was a fantastic idea."
My next target was Helena Walker.
Getting a quiet minute with Helena was one of the tougher challenges of the day.
As the only physio responsible for a squad of rugby players, she had her hands tied.
I finally managed to grab a minute with her amid endless taping and stretching.
Helena said her passion for sports rehabilitation started early.
She said: "It all started watching rugby games.
"My mum and dad would take me to games and would then get annoyed that I'd be more interested in watching the physios than the game.
"When I decided to become one it became less of an issue."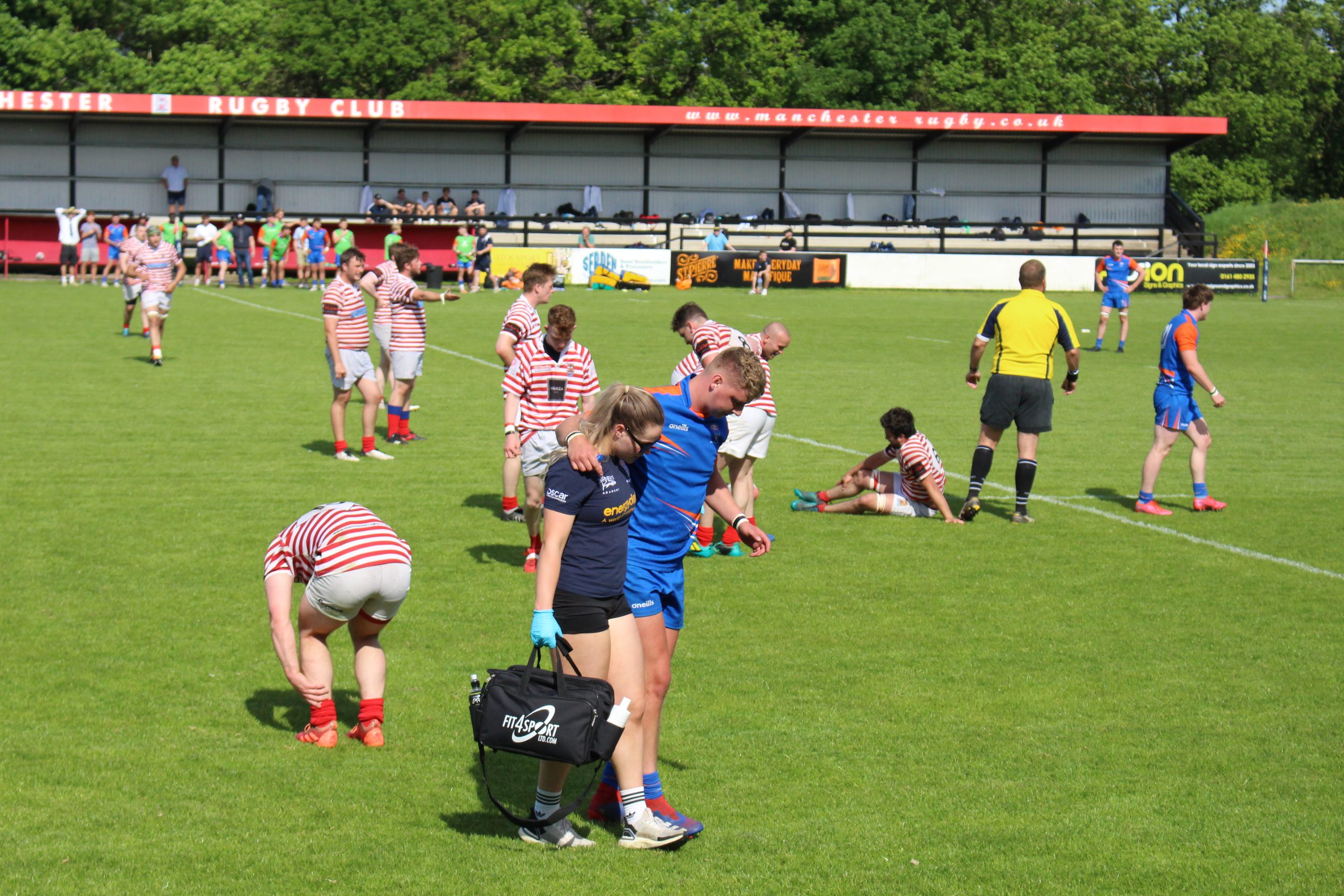 Unfortunately for Helena, there have been few opportunities to put what she learns at university to the test.
She said: "Higher division teams weren't taking new people on, and the lower division weren't playing.
"It's been tricky to get anything."
The league has served as a vital lifeline for Helena's career prospects.
I found Peter setting up a gazebo.
I wondered why on a 23-degrees cloudless day he was putting up a shelter, so I approached him and we got talking.
Peter Buxdon has been a member of Manchester rugby club since 1977.
He said he joined the club because his son wanted to play rugby, and the club had a youth division.
Rugby being such a significant part of his life, not having it over lockdown was tough on Peter.
"It left a huge void", he said.
"I've never known anything like it and so it was difficult.
"It's obviously a bit strange not seeing the scrums of the line-ups, but it's the comradery, and friendship that's important."
The game started and people were all of a sudden far less keen to speak with me.
Not being a die-hard rugby fan, I did forget this match had been dubbed 'the decider', and people were keen to see what happens.
I had just about given up trying to speak with people when I met Joan.
Joan Johnstone, who was there to watch her 18-year-old grandson play for Manchester Rugby, asked who I was supporting.
I hesitated for a minute and then said that I was from MMU, but assured her that I was there as an impartial spectator.
We got talking.
"I'm one of the ladies that lunch", Joan said.
"I go to the theatre and the cinema.
"I don't do any athletics, but I enjoy social gatherings."
Joan admitted that her family are generally football fans, but that she was so happy to get out and enjoy the social aspect of rugby.
"It's been absolutely marvellous," she said.
She said that having to meet her friends in the Salvation Army and the Rotary International over Zoom was not the same.
"It has been difficult keeping in touch with everybody", she said.
"We're able to go back to church in the next few weeks.
"It's all getting back now."
When I asked Joan how she feels about the future, she leaned in a bit closer.
"This is a bit naughty," she said.
"But my husband died just over a year ago, and now I'm quite looking forward to becoming a merry widow."
There were about 10 minutes to go, MMU had just scored a game-tying tri, and Manchester rugby missed a vital last-minute conversion.
The game ended in a draw.
Just after the final whistle, I made a beeline towards the referee.
Daniel Taylor is a teacher and father of two young boys.
He also coaches where he teaches in Manchester Grammar School, so it is safe to say rugby is a huge part of Daniel's life.
I asked him how he kept busy when there was no rugby.
"I've got two young children so homeschooling them occupied a lot of my time," he said.
"We also taught every lesson online, so I was pretty busy.
"Exercise was hard: just going for runs was really boring."
While most have accepted the rule changes, it was understandable that the one tasked with imposing the new rules found it difficult.
"The rule changes are hard," he said.
"The penalty count can ramp up because the new rules have brought about new penalties.
"I try to keep the booking for covid offenses to a minimum, though."
Like many of the people I spoke to, he was excited about the future.
He said: "I'm optimistic about the future.
"Hopefully by September we will have proper rugby back, and we'll be back to normal."
The day was coming to an end, but two fans remained in the stands.
David Tylor and Judith Taylor Conrad came to watch their son play in the match, along with their dog Austin.
After spending many years driving to matches, they say not having the rugby around has been an adjustment.
"It's been a very strange 18 months," Judith said.
"I bought a new thick coat right before the first lockdown so I could watch the matches in the rain– and I haven't used it once."
Both say they were pleased with the student coverage of the matches.
A group of MMU students had been live-streaming the matches on Youtube, which gave the pair a unique experience of watching their son from the comfort of their home.
Both say they are cautious despite the ending of restrictions later this month.
"I don't think we're out of the woods yet," David said.
But David also pointed out that having his first pint of draught bitter for 18 months has been a real milestone and has been very enjoyable.
He said: "An afternoon like this with sunny weather and a beautiful temperate climate– you really couldn't ask for anything better."
My takeaway from the day was that the rugby league, far from just being a way for players to practice for the upcoming season, is a vital ecosystem that enhances the lives of so many that surround it.
Without it, parents see less of their children, students struggle to put theory into practice, and volunteers lose part of their livelihoods.
It is fitting that the game ended in a draw: today there were no losers.