MMU Women dig deep to grab late York win
MMU Women 22 York 19
By Charlie Ball at Platt Lane
A gritty and determined second half comeback by Man Met Women was enough to see off a strong and well-organised York side in this Northern Tier 1 rugby clash.
Polly Bowman, one of three Sale Sharks in the MMU side, ran home an early try to give the home team the lead after two minutes. A Jess Abram try and Sophie Bates conversion levelled the scores eight minutes later but Georgia Chang Evans put MMU ahead 12-7 at the interval.
York took the lead with a surprise try within a minute of the re-start and Indianna Varley extended the gap to seven points as the light faded and the temperature dropped. But determined pressure by Man Met forced York into mistakes and Scarlet Bowden ran over for a try to narrow the gap to two points.
Then in a frantic few final minutes Rosie Kenworthy scored the winning try to give the Platt Lane women a hard-earned win.
After the game York captain Holly O'Callaghan, recently playing for the top level Irish professional side Munster, paid tribute to her players.
"I think there were a few little tears at the end which I think is just a testament to how much we put in. It was our first game as a team: this is a complete fresh, new squad, so it's just a blank canvas.We have a new coach as well, in a new league – it's new everything! So I think today was a good indication of where we are at, what we did well in and what we need to work on."
York's Sophie Bates was voted Player of the Match by the Matchday Live commentary team of Halle Parker and expert summariser Katie Mellor.
Alice Iwanejko, MMU captain, rugby scholar and another of the Sale Sharks trio – Emily Jakowiec is the third – said after the game:
"After conceding two consecutive tries I said to the girls: 'We can either leave it like it is and let walk all over us or we can pick our heads up and take it back to them.' Every girl put their body on the line for the team and that's the reason we won today.
"Having the most number of girls signing on to play Rugby this year means that everyone is working hard to earn the shirt. We respect the people around us and play our own Rugby and that is how we win."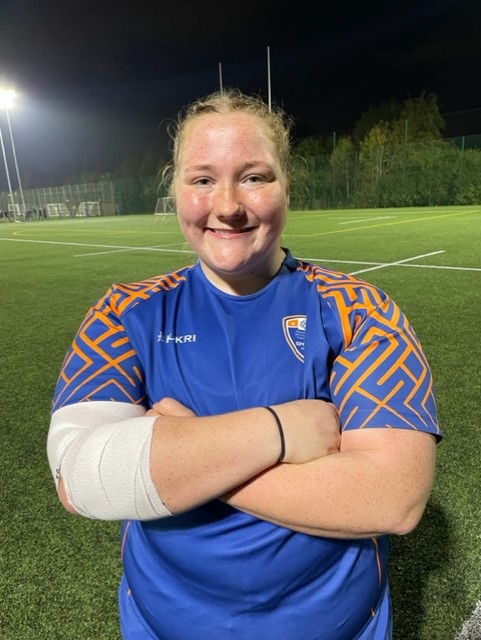 Watch the whole game as shown on Matchday Live here: https://www.youtube.com/watch?v=2mayQ5za8RM