Matchday Live's Callum vision mixes his way to a top job with Eurosport – in time for the Olympics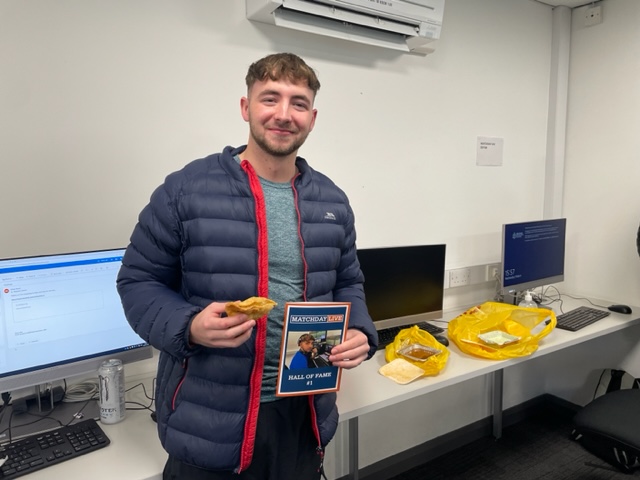 Third year BA Film-making student Callum Hughes has landed a top job with the global sports broadcaster Eurosport – on the strength of his work with the university sports livestream Matchday Live.
Callum joined the RISE project at Man Met's sports hub at Platt Lane at the start of this season's livestream show and was immediately taken by the role of vision mixer: following the live action, mixing between cameras and showing action replays.
He became a regular in the production suite as the Matchday Live team covered the fortunes of MMU's sports teams at Platt Lane – rugby, football, basketball, netball, volleyball and lacrosse – and an early Sunday morning futsal cup run.
With his finals coming, Callum began to think about applying for jobs, but he'd enjoyed his experiences vision mixing so much he started to explore jobs in TV sport – just as Eurosport advertised a job for a junior transmission technician.
On Wednesday the team gathered to give him a card marking his graduation as Matchday Live's first Hall of Famer and to bid him farewell with a samosa, as he starts at Eurosport in April.
Afterwards Callum said: "I'm still in a daze, really. I've got a graduate job I could never have dreamed of as a direct result of my experience at Matchday Live. The minute I started on the show I enjoyed it, and then when we were chatting after matches I was encouraged to look for jobs doing this in industry.
"I've loved my time here and the work really challenges me: it makes me better, more confident, more sociable – and I love the focus when the action starts.
"You come to university to learn and develop practical skills, and Matchday Live has been great as I've been working in an environment where you're treated professionally and the skills are very transferable. It just really stuck out for me, and it combines my two loves – film and sport".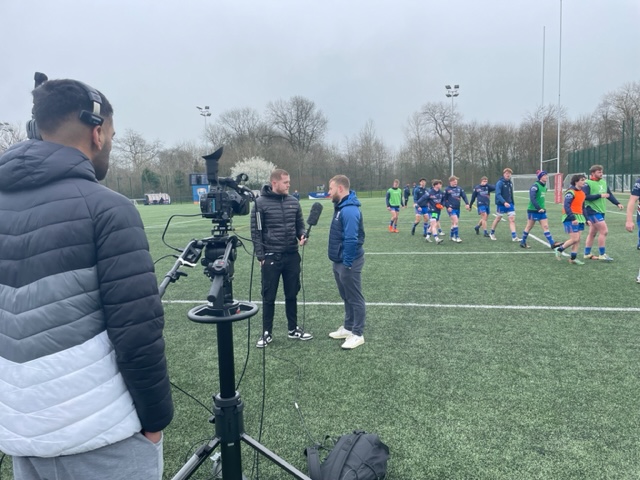 Matchday Live developed from the fitting of cameras at Platt Lane last year for sports coaches to analyse training moves, and was developed into a livestream show by MMU Technical Specialist Sam Heitzman and former BBC producer and Sports Journalism unit lead Vince Hunt.
"This really is a dream come true for us when Matchday Live gets our students into amazing industry jobs," said Sam. "This is a fabulous opportunity for Callum, and just in time to be trained up to work on the Paris Olympics. We've had a lot of very talented students in this year's production team, operating cameras, on commentary, producing – doing all the jobs you would in a real broadcast show.
"Callum is our first Hall of Famer, and I'm sure he won't be the last."
• Matchday Live is recruiting producers, presenters, commentators, camera operators and vision mixers for next season and for one-off specials for the rest of this academic year. Matchday Live is open to students of all academic backgrounds wanting to get some broadcasting experience. If you'd like to be involved, please contact Sam Heitzman at [email protected].