Matchday Live rugby clash off as temperatures plummet
by Patrick Watson
The decision to cancel the rugby union match-up between MMU 1s and University Campus Doncaster 1s at Platt Lane came after the pitch was deemed 'still frozen and solid underneath'. Therefore, it was believed to be unsafe to play on, especially with it being for rugby, as serious injury risks are higher. Facility member Ross Stirling saying that pitch safety is 'even more important in rugby than in football.'
Coach Rob Jones was left gutted with the decision, however, admits players safety must come first. 'It is a brutal enough game without potential for worse injuries.' He said.
'We've also got to be fair to the opposition, and give them as much notice as possible, but there was a small chance it would be okay, which is frustrating.'
The decision was made collectively between the rugby coaching staff, the groundsman and the general sport staff within the facility. The official reason for postponement was because it was too dangerous to risk worse injuries.
The 3G rugby pitch is located further along from the reception building and is usually covered by shade when it is a sunny day, which meant that the frost wouldn't melt until later in the day, by which time it was too late before kick-off. By contrast, the 3G football pitch was comfortably covered by sun therefore was not too frosty, so that match was given the green light along with the women's lacrosse against Durham.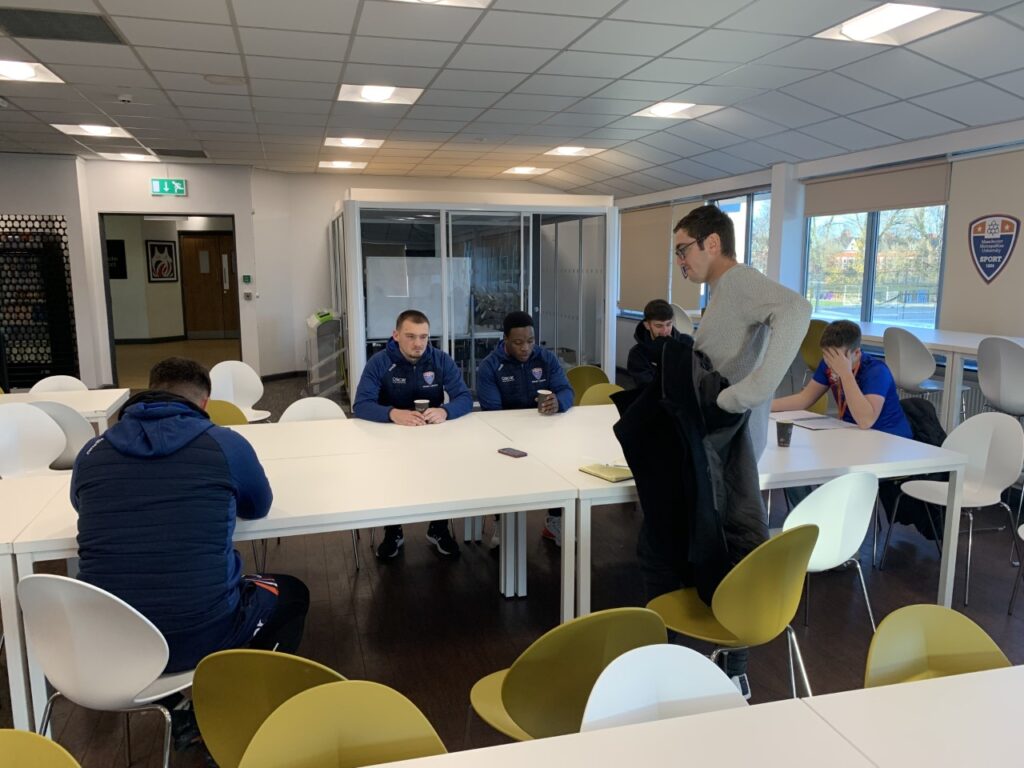 by Ed Tucker
Chris Heal, author and editor of the website Talking Rugby Union, came down to Platt Lane to interview some of the MMU rugby players and staff and to check out our Man Met Matchday Live rugby stream which was being embedded on the Talking Rugby Union website.
Despite the game being cancelled, the Matchday Live team got to pick Chris's brain before he interviewed MMU rugby head coach Rob Jones and two of the first team; Tanka Ndoro and Willem Johnson.
Chris gave great insight into his development from University to journalist for Talking Rugby Union his main points being: start creating content, get your contacts, stay in touch with them and show up consistently!
He said: "Visiting MMU I was pleasantly surprised to see the excellent set up and professionalism of the media courses and the studio, disappointed the game didn't go ahead but looking forward to coming back again and seeing the production in full flow."
Also, for people interested in rugby journalism, he said anyone can send in content which can be featured on their website. Their website gets up to 35,000 viewers so for anyone hoping to get into sports journalism this is a great opportunity to get yourself noticed.
We will have Chris again after Christmas for another rugby stream and keep the Matchday Live Talking Rugby Union relationship strong.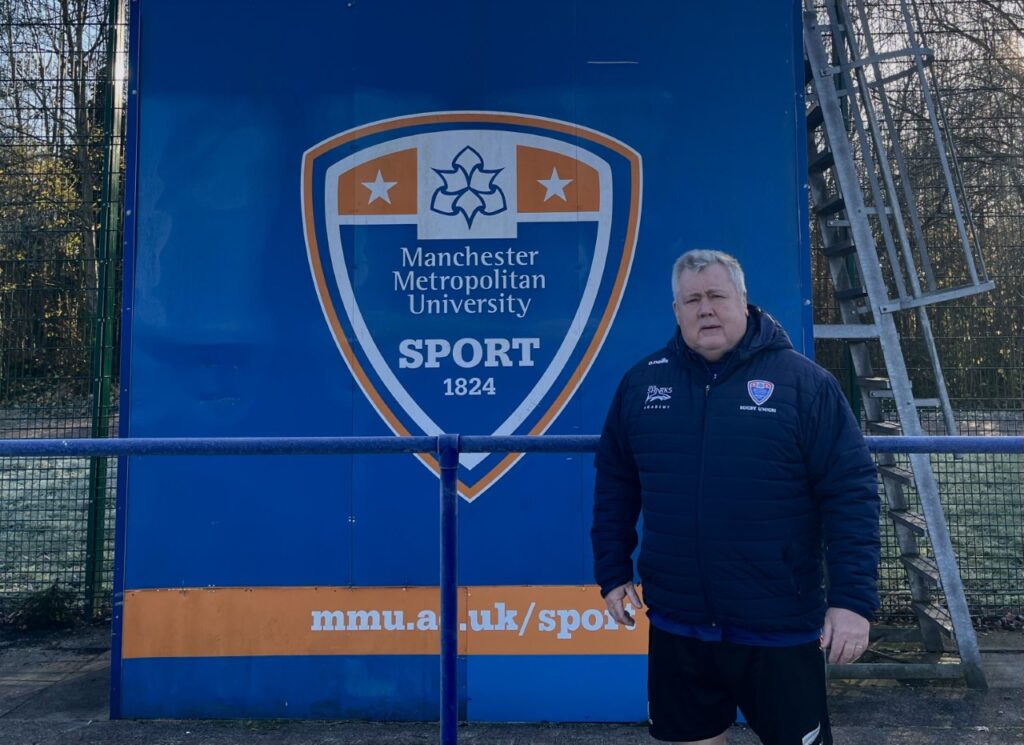 by Joe Ward & Louise Graham
As a former Sale Shark and Bedford Blues centre, Graham Higginbotham knows better than most about the highs and lows of devoting your life to rugby.
Despite playing rugby union until the admirable age of 36, Higgy (as he's otherwise known) suffered a career-shattering injury as a 29 year-old when he damaged a disc in his spine. Unfortunately for Higgy, he was never able to quite reach the fitness levels that he once possessed.
However, Graham continues to channel his passion for rugby through his coaching role at MMU, developing the newest generation of talent.
Higgy treats coaching as substitute to his love of playing the game, passing his experience and knowledge onto the likes of Willem Johnson and Tanaka Ndoro. He says: "Coaching at MMU you're coaching some fabulous young players and maybe see a bit of yourself in them.
"If you see them people improving, and maybe going on further, they could be that next person to go into the professional environment."
Although the transition into coaching was initially difficult for Higgy, it's fair to say the love of developing young players has massively grown over the years. He says: "There's disappointment when you can't play at that level again, but you look for something else to channel that and anguish all that disappointment.
"I did a degree at MMU in sports science and got involved in coaching at the university and Broughton Park but I wasn't really taking it seriously." However, he soon turned it around and got his badges which now allow him to do what he's grown to love.
Today's games are the last before Christmas but for anyone interested in sports broadcasting make sure to come and join us in the new year.