Manchester Olympian Alan Geldard honoured with new Withington wall mural
A new mural honours late Mancunian cyclist Alan Geldard
Geldard represented Great Britain at the Olympic Games in 1948, winning bronze
The latest Withington Walls piece was created by local street artist Ethan Lemon
A new mural in Withington has been created in honour of Alan Geldard, the late cyclist who won Olympic bronze at the 1948 Games in London. The mural, the latest from the Withington Walls art project, celebrates the legacy of one of the area's lesser known sportsmen, encouraging the memory of one of Manchester cycling's most important figures.
Geldard's mural, based on an old photograph, was created by Ethan Lemon, a local artist with a keen interest in vintage bikes and local history.
"I had wanted to paint a vintage cycling portrait for a while. I had previously discovered that I live near the former site of the Fallowfield Track which was a renowned velodrome, which Alan and his wife, also a keen cyclist I believe, moved to Withington to be close to".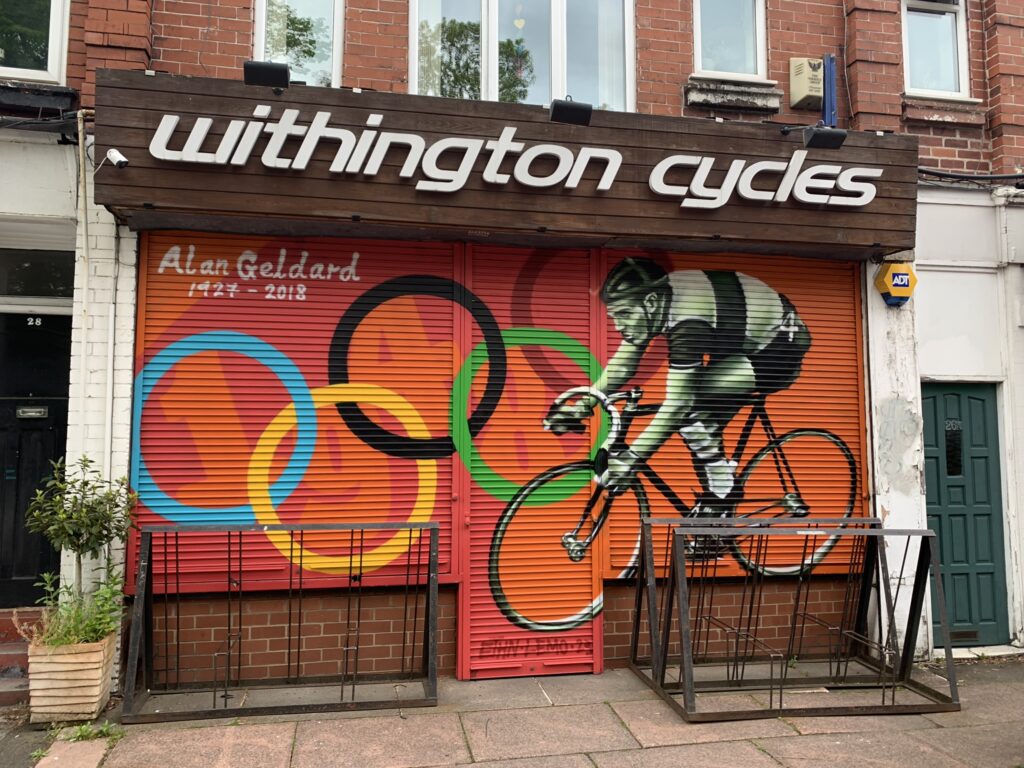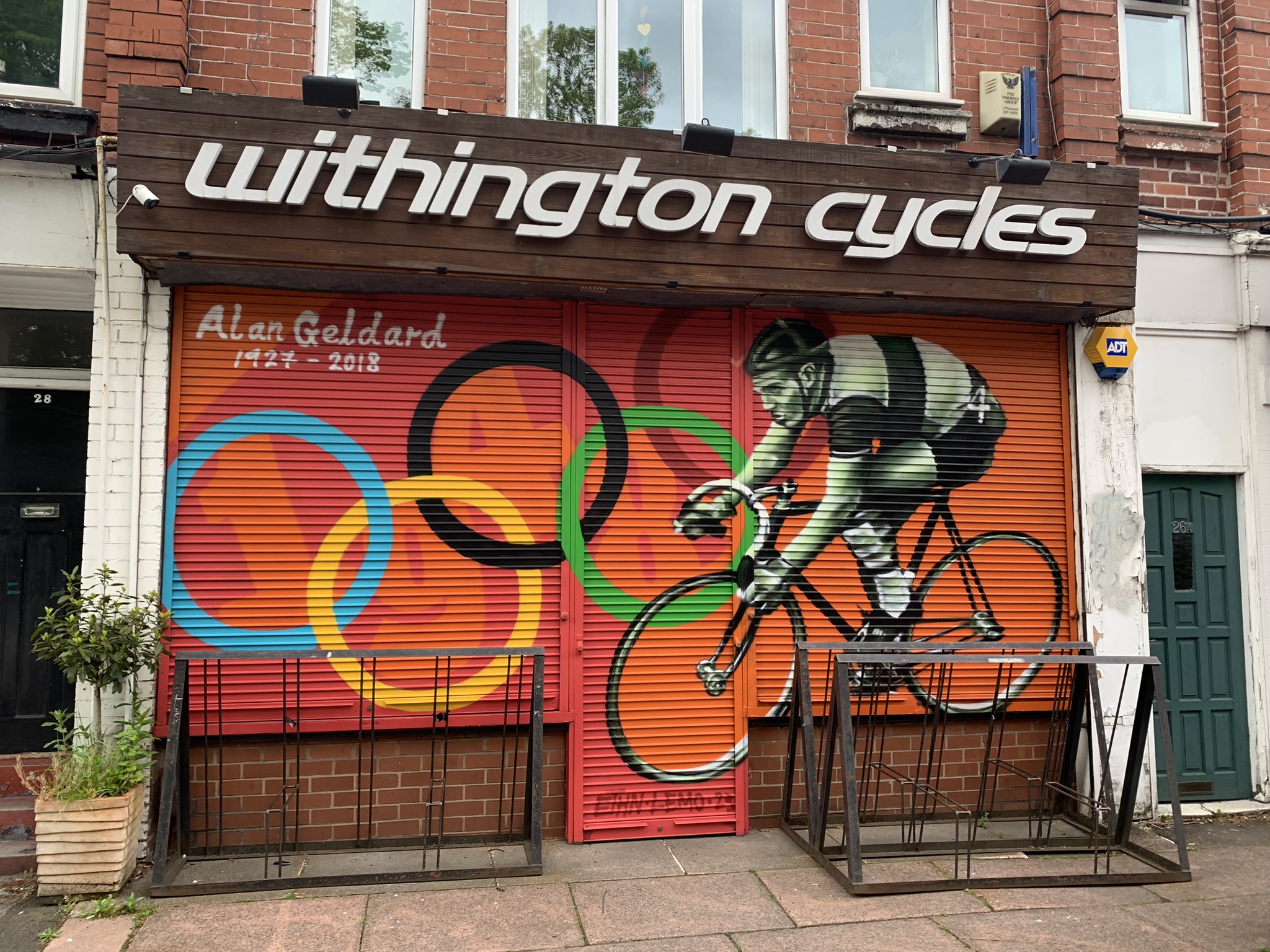 Alan's Story
Alan Geldard was born in Rochdale in 1927 and remained a Greater Manchester resident until his death in 2018. In this time, Geldard championed local cycling and, as a specialist track cyclist himself, represented the area on the highest stage.
Formerly a miner, Geldard was working as a commercial artist when he joined the Manchester Wheelers Club. A track specialist, he was part of the team that won the National Pursuit in 1947 and a year later represented Great Britain at the 1948 Olympic Games. Competing in the 4,000 metre Team Pursuit, Geldard and his team reached the semi-finals and took home bronze medals. Because he'd taken time off work to compete, and was married soon after, he returned to find he had been sacked, later joking to Manchester Evening News that "that was my reward for winning a medal for my country".
After his competitive retirement, Alan Geldard continued to champion cycling in Greater Manchester, becoming a mentor with local clubs before coaching at the National Cycling Centre from its opening in 1994 until he suffered a stroke in 2001. Geldard passed away at the age of 90 in 2018.
What is the Withington Walls project?
Now Alan is immortalised in one of the latest Withington Walls murals. The street art project transforms walls and shop shutters into vibrant art pieces, pulling in local artists to breathe new life into the area and pay tribute to local heroes.
Artist Akse P19's 2020 painting of Manchester United and England star Marcus Rashford, near to his childhood home on Copson Street, gathered national news attention and is one of the best known of the thirty-or-so pieces that decorate the village.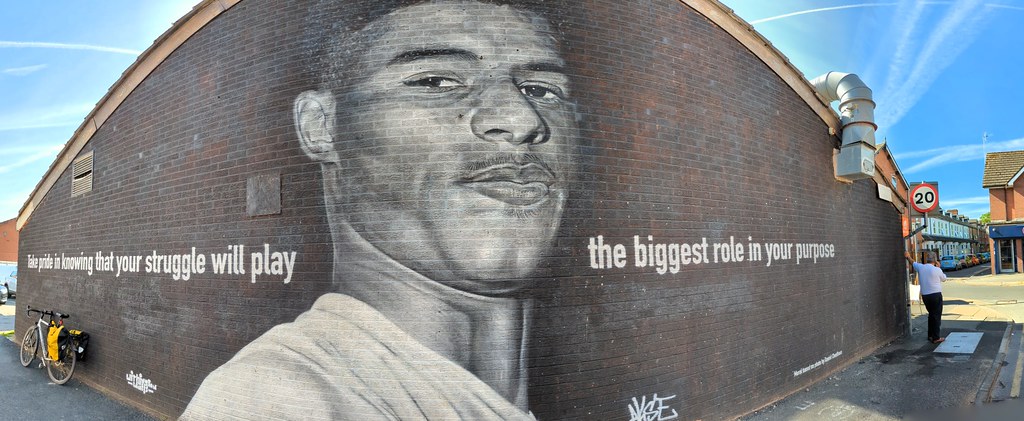 Ethan Lemon was approached by Withington Walls to paint the piece, which adorns the shutters of Withington Cycles on Burton Road.
"The idea for this mural came from Ed at Withington Walls. Alan Geldard used to be Ed's neighbour and that's how Ed learned of Alan's cycling passion and his Olympic triumph in 1948" said Ethan.
"Painting the mural was great. Its a pleasure to be able to paint large scale in the public realm and hear live feedback from people that pass by".
"People thought it may be the owner of the bike shop or just a random vintage cycling photo, so it was good to explain the actual story behind the artwork and that in fact it was a photo of a local man that won an Olympic medal and did lots for the cycling community in Manchester".
More of Withington Walls' work to brighten up the village can be seen on Instagram and Twitter.