ManMet and Uni Manchester UCU and UNISON staff tackle cash-rich employers on inflation pay rise and better working conditions
With £40 billion in reserve things ought not to be the way they were
UNISON on low pay
Govt pressuring employers' organisation to maintain status quo
Man Met and University of Manchester members of UCU and UNISON have taken three days of strike action to pressurise their employers for higher pay and a better condition of work.
Members of the UCU went on three days strikes on Thursday, Friday, and Wednesday, November 24, 25, and 30 whilst their non-academic colleague union, UNISON joined for the first two days.
UCU unionists from these universities accused their university management of several wrongdoings. They believed that their employers have ignored negotiations with the unions. Hence, the strike action became necessary to press for a pay rise, better working conditions across universities, and a reliable pension scheme. They argued that their employers were cash-rich but refuse to pay staff.
UCU Secretary, University of Manchester branch, Dr Simon Gill told Northern Quota that the universities management refused to negotiate with the union. Gill said until the strike action was called UCI, the body which represents the university sector: "Refused to come to the table to talk about these things, they refused any presentable discussions".
Gill argued that although the university has the financial ability to support the staff effectively and meet the demands of the dispute, yet they would not do it. The secretary claimed that the universities prefer: "Holding together as a sector".
He said the pension scheme has been decimated. According to him, workers: "Are losing quite considerable money potentially in retirement". He said the pension scheme revaluation should not have taken place.
Gill said the wider context of the strike was to ascertain a future for the universities that allows academic staff to support students' learning adequately, where staff are well paid with a secured pension and in the right environment to educate students.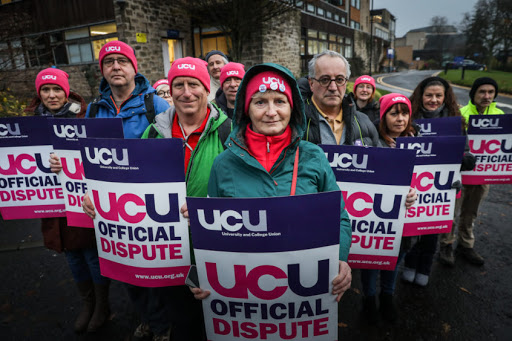 He noted that the cost-of-living support provided by University of Manchester was a clear indication that there is sufficient money in the sector to meet uplifting pay and other demands of the dispute. He alleged that university managements allow the current political machinery to keep decimating everybody.
In an interview with Northern Quota, the General Secretary of the University and College Union, Jo Grady said with £40 billion in reserve in the sector things ought not to be the way they were. She stated rather than offering staff a pay rise, universities are setting aside £4 billion to construct new buildings.
Grady hoped it would not come to it but stressed the union's willingness to boycott assessment if it is required. She said the three-day strike was to show that issues relating to an inflation pay rise, workload reduction, and end of casualisation must be resolved.
Julie Wilkinson, ex-Secretary of UCU Man Met said the strike which pulled two unions at the same time demonstrated how people are reaching out to each other and supporting each other in a bad situation. She said: "People are struggling with the cost-of-living increases and with its effect on our wages". Wilkinson also noted that the UNISON members are on a very 'low pay' and that Man Met management is struggling to keep the wages in line with the Minimum National Living Wage. She maintained that the university is rich. Wilkinson said: "It's cash-rich. Which means it can afford an increase for us. But we are not getting a fair pay deal".
She argued that the public sector workers who are not earning enough to feed their families and hit their homes are those paying for the mistakes of Liz Truss and the Tory governments for many years. Wilkinson stated that they were picketing for a decent pay rate for everybody.
She explained that many universities were saying: "We want to pay more to our workers, we think our workers deserve more but they are not paying". Wilkinson quarried: "Who is stopping them?" She alleged that the government that controls the employers' organisation is mounting political pressure to inhibit them from paying, "What the employers agree is the fair deal".
Maria Brown, Convener, UCU Committee in Man Met believed that since 2008 staff pay kept going down because of inflation. She said a one or two percent pay rise is worthless because inflation is far higher. Brown stated that the union had reasoned with UCEA about raising the staff pay but had not listened. She said the strike was to show "How unhappy we are".