London style pay-as-you-go machines surge in popularity as Metrolink announce more than 5m contactless journeys
Metrolink recorded 141k contactless journeys on the last week of September
Users found contactless most hygienic way to pay during COVID pandemic
Users describe the system as 'convenient' and 'easy to understand'
TfGM planning The Bee Network – integrated contactless system to further expand network
Metrolink are celebrating after announcing a record five million passengers have used their contactless machines since their launch,
Transport for Greater Manchester (TfGM) announced the milestone via Twitter, confirming that 40,000 contactless payments had been made on one day in September alone.
Like the system in London, machines allow customers to travel without buying a paper ticket or downloading an app on their phones and ensures travelling by tram is quick, safe and easy.
The method also ensures a daily cap is placed on transport prices and customers will never pay more than £31 for the full week in all zones.
Tap-in tap-out!

We're celebrating as our @MCRMetrolink pay-as-you-go contactless system is proving more popular than ever, with more than 5 million journeys now having been made since its launch!

— Transport for Greater Manchester (@OfficialTfGM) October 5, 2021
The  numbers come in the wake of the easing of coronavirus lockdown restrictions, which has seen mass events such as the Great Manchester Run return.
September also saw the return of Manchester's football grounds to full capacity, as well as Parklife festival at Heaton Park, which all have tram stops.
Millie Gunn, who uses the tram regularly, told the Northern Quota: "It's so easy to use, I literally just get Apple Pay up on my phone, tap the touch point and it beeps so you know it's gone through.
"Unlike the paper tickets, which you have to buy for a certain number of zones, you don't need to know where you are getting off.
"This makes it handy for meeting up with people at other stations at the last minute."

Jess Ryan, a frequent user of the Metrolink, said using contactless made life a lot simpler.
"For a start you don't need cash, which is great in a global pandemic," she said.
"It's also great for people with visual or cognitive impairments who might find the machines overly complex.
"On top of this, it's good for people who don't have English as a first language because you don't have to understand the different ticket zones and options."
People who live outside Greater Manchester have also commented on the benefits of using pay-as-you-go.
Jen Selim, who lives in Barnsley, told NQ: "It's efficient for me because I don't actually live in Manchester and only use the tram when visiting my boyfriend.
"It means that I don't need to get a travelcard or understand the specific zones in order to use the trams.
"I quite like that the style of tapping in is similar to the London Underground, so you already know how to use the machines."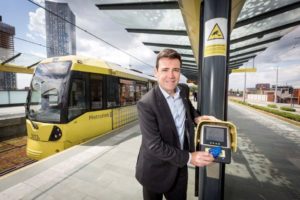 Due to the popularity of the contactless method, TfGM is planning to expand the system for all transport under the name The Bee Network.
A spokeswoman for TfGM said: "As part of our plans and ambitions we will be looking at an integrated contactless payments system for multimodal journeys.
"The aim is for the system to be accessible, affordable and easy to use, with a daily fare cap and a single ticket which supports seamless end-to-end journeys."
For more information on contactless journeys, including fare caps and early-bird prices, head to https://tfgm.com/tickets-and-passes/contactless.