Last gasp goal seals win in Lacrosse's Man Met Matchday Live Debut
People normally look to movies for climatic endings, but it was Platt Lane Sports Complex which saw drama unfold on Wednesday afternoon.
Man Met Matchday Live first game of the afternoon experienced a dramatic women's lacrosse match between MMU and York University.
A late goal from Man Met's Millie Johnson snatched a win against York ending 14-13 to the home side, sending MMU through to the next round of the National Trophy.
The game was a tightly contested tie between two teams who were still fresh in each other's minds, after previously playing two weeks ago. The game showcased supremely talented athletes showcasing their fitness and terrific goalscoring abilities.
The fast-paced game saw a high volume of goals by both teams attackers with MMU's Millie Johnson scoring a miraculous 8 of the 14 goals and York's Anna Frost scoring a hattrick.
A first for Man Met Matchday Live saw Callum Scott presenting in-game analysis with Freya Hart, MMU and Anna Frost, MMU. This was ground-breaking coverage for Matchday Live viewers as they could gain an insight into an athlete's mind and thought process on Lacrosse.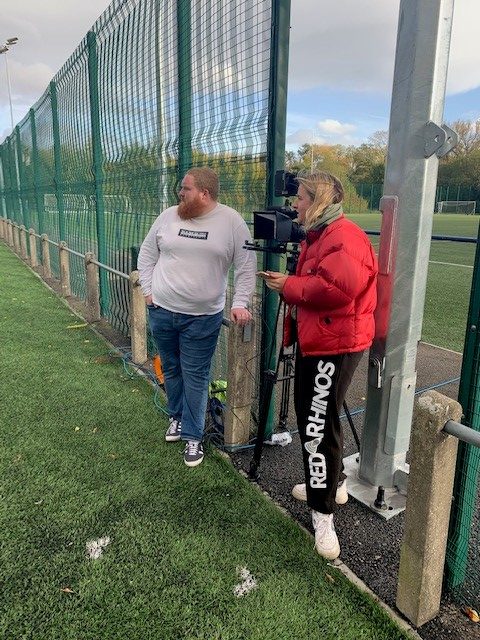 York naturally was quite deflated after suffering a late defeat but Captain Ina Price-James was optimistic about York's performance:
"We always have a fun game with Man Met, we're a new team and always excited to get on the field and we did what we wanted."
Callum Scott managed to catch up with MMU captain, Niamh Reavill, who was delighted with the win and offered some great insight into the last quarter of the match.
"I don't think its down to skill at that point, its about who wants it the most and I think we wanted it the most"
You can watch more live action sport from Man Met Matchday Live on the MMU Sport YouTube channel. Wednesday 2 November sees a local derby between Man Met's men's football team vs Salford at Platt Lane, followed by Man Met's men's lacrosse taking on Loughborough.