Impressive cup win for Man Met futsal in Matchday Live debut livestream
Man Met 12 UA92 5
Man Met Futsal notched an impressive cup win in Sunday morning's Northern Conference Cup first round encounter with UA92.
With MMU being two divisions higher than UA92 the likely outcome was always going to be a home win, and with more players available to switch in and out of play, MMU definitely came into this game as favourites.
UA92 brought a squad of just seven players and scored first, but MMU soon levelled and built a 7-2 lead at half time.
MMU stretched the lead in the second half with UA92 keeper Owen Yeung keeping his team in the game as his net was showered with a staggering 50 shots – 33 of them on target. UA92 only had 9 shots on target. That stat just showed how impressive MMU were and how important Yeung was in the UA92 goal.
MMU had set out to convert chances from corners, while UA92 had concentrated on defending corners in training ahead of the game, and this work showed, as MMU had 14 corners and didn't score one of them.
After the game, MMU's Kieran Williams said: "We're very pleased with the result and what we've been working on in training is now coming good in our games. Our rotations were good and although we were a bit rusty to start with, we clicked towards the end of the first half and started to link plays together. It felt good as a team performance."
It was a broadcasting first for the Matchday Live team in a debut futsal livestream, with Ed Tucker and Benjy Golaub commentating on the action and Benjy hosting a half-time interview with players from both sides.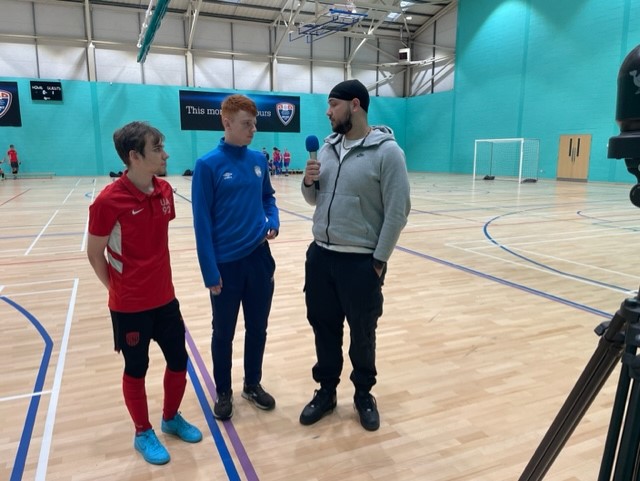 Watch the full game with commentary here: https://youtu.be/bpe-EfBB51c
The next Matchday Live will be on Wednesday 7 December starting at 1.45pm with a 2pm rugby clash between MMU Firsts and Doncaster Knights Academy and at 4pm live coverage of a women's lacrosse encounter between MMU and Durham.