Free-scoring Man Met edge out Newcastle in top-of-the-table basketball thriller
MMU 93 Newcastle Uni 76
By Ronnie Smart at Platt Lane
Watch the whole game on Matchday Live here: https://www.youtube.com/watch?v=bsJ_-m8NArM
Both teams came into this top-of-the-table Matchday Live featured game unbeaten but it was MMU who came out with their record intact. A dominant second half display proved that they were too much to handle for the visitors.
Newcastle were quick out of the blocks in the first quarter, hitting a barrage of three-pointers and catching the MMU defence off guard early on. At the heart of their offence Faaris Mughal hit multiple shots from behind the three-point line, giving the visitors a solid platform to build on.
But Manchester were swift to respond, and the good hustle and defensive tweaks that followed allowed them to chip away at the visitors' advantage and go into the break with a slender lead.
Then head coach Callum Jones adjusted his strategy and the home side took control of the game and began to dominate their opponents. Superb offensive displays came from point guard Noah Togo and high-scoring captain Louis Weaver who racked up 18 points himself.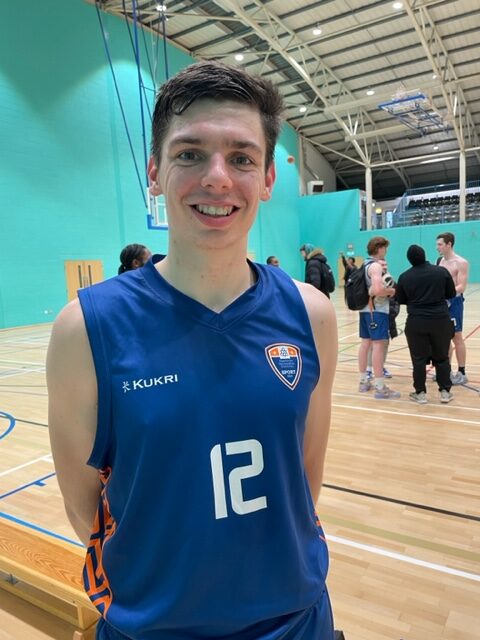 After the game Weaver heaped praise on his teammates.
"I'm not a great creator myself. Everything I got was from my teammates, so it was a great team win in that respect – their assists and hard work on defence gave us the easy fast-break layups and that really made the difference."
Man Met's Kagan Rose. Pic: Vince Hunt

Due to a clash of colours on the court, Man Met played with their shirts inside out, which complicated matters for Matchday Live commentator Jack Merry, trying to read the numbers backwards as he followed the action. Among the standout players breaking up the Newcastle moves was Man Met's Kagan Rose (above).

"I think we were more enthusiastic on the ball, to be honest, and very fast in getting it up the court into scoring positions. We were very good defensively and we got a lot of steals – maybe five or six in each quarter."

While Newcastle captain Ben Proctor was pleased with his team's early lead, showing the quality that had notched them three wins this season, he admitted Man Met's energy in the second quarter edged the game.

"It's a disappointing loss, really. We lost focus on defence and the game got away from us in the second quarter. Offensively we went through good periods but we just didn't keep it stable on defence."

Man Met head coach Callum Jones said: "The guys made a good adjustment in terms of making sure we pressured them on their outside shots and got our hands up, and then collectively we played with a lot more focus and intensity on defence. That led to good offence for us."