Eurovision celebrations begin as Picadilly Gardens is transformed
Piccadilly Gardens goes through transformation for Eurovision celebrations this weekend
Northwest neighbour Liverpool is set to host the event on behalf of last year's winners, Ukraine
The 'fan-zone' is open all week for both semi-finals and the final on Saturday (13 May)
Manchester has begun its week-long Eurovision celebrations with the transformation of the city centre. Piccadilly Gardens is set to undergo a transformation to celebrate the upcoming competition. The 'fan zone' will have everything Eurovision themed, for both locals and music lovers around the world who are coming to the UK for the big event. 
The fan zone will include two big screens to stream the events, as well as food stalls, face painting, and a whole host of activities to entertain attendees.
The events are free of charge but on a capacity limit so attendees are encouraged to get there early.
Councillor John Hacking, Executive Member for Skills, Employment and Leisure, Manchester City Council, said: "We owe it to all our Ukrainian friends wherever they are in the world to make this year's Eurovision the very best it can possibly be.
"So if you're still making your mind up about where to watch Eurovision this year, think no more! Come and join us at the fan zone in Piccadilly Gardens for a Mancunian Eurovision party like no other!
How else is Manchester celebrating Eurovision this year?
Local artist Aske, known for his previous murals of musician Ian Curtis and Manchester United player Marcus Rashford, has been commissioned by Transpennine Express for the mural of the UK's Eurovision runner-up last year, Sam Ryder, in the train station of Manchester Airport. The mural also has 'Welcome' translated into Ukrainian to welcome visitors to last year's winners.  
When speaking to the Manchester Evening News, Aske said:
"It was a joy to work on this piece with TPE. Seeing passengers arriving at the station and being met with the mural of Sam Ryder certainly put a smile on their faces."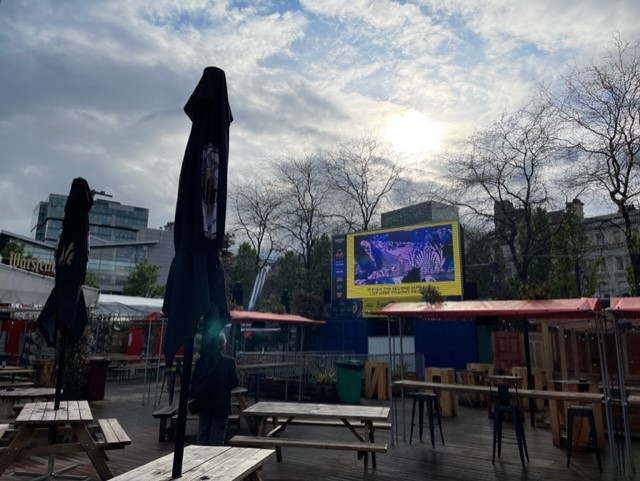 The celebrations will take place on Saturday (13 May) for the final.