England's World Cup Dreams Shattered: Knocked Out by India in a Stunning Defeat
In a highly anticipated match at Ekana Cricket Stadium, Lucknow, England faced a humiliating loss, becoming the first team to be knocked out of the tournament. Winning the toss, England elected to field and got off to a promising start with two quick wickets. Chris Woakes showcased his bowling prowess by dismissing Shubman Gill, while left-arm pacer David Willey struck early by getting the in-form Virat Kohli out for a duck.
England's bowlers put up a commendable performance, restricting India to a below-par score of 229. However, it was the Indian captain, Rohit Sharma, who stole the show with an impressive knock of 87 runs under immense pressure on a tricky pitch.
Despite their efforts, England fell short in their chase, ultimately losing the match by 100 runs. The defeat not only dashed their hopes of progressing in the tournament but also highlighted the fierce competition and unpredictability of the ICC Cricket World Cup.
From the very beginning, things didn't go in England's favor as they were relentlessly bashed by the Indian bowlers. Right-arm pacer Jasprit Bumrah made a strong impact by clean bowling English opener Dawid Malan and dismissing former test skipper Joe Root for a duck. The troubles continued as Mohammed Shami unleashed a lethal delivery to dismiss Ben Stokes and claimed a four-wicket haul.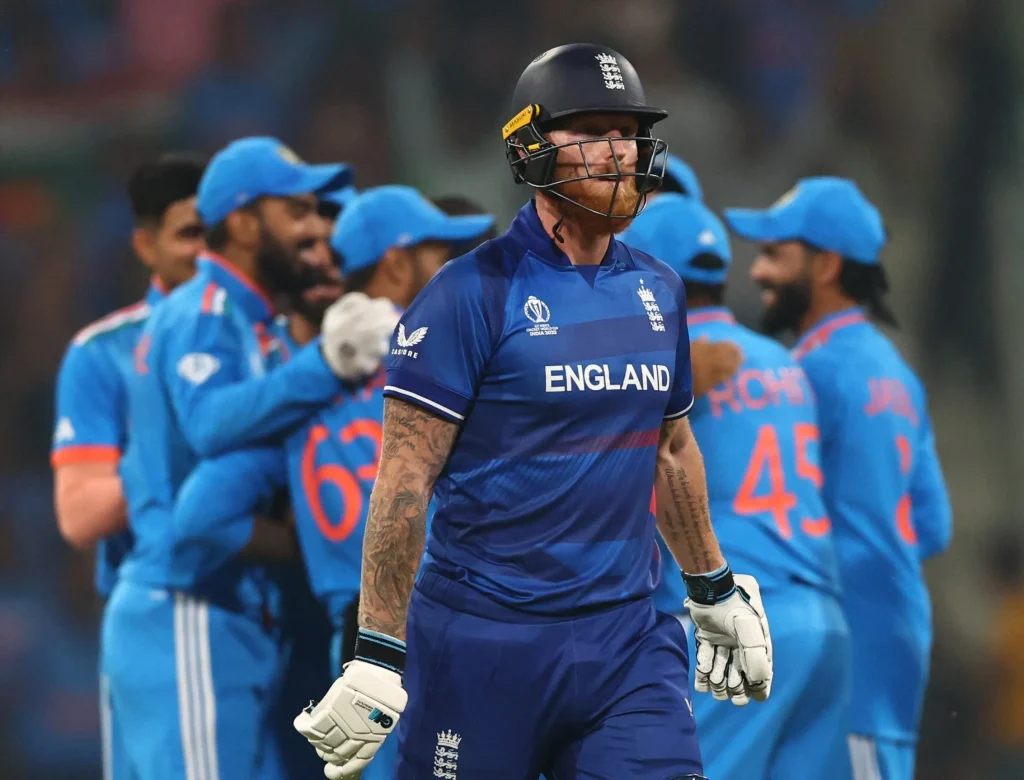 The Indian pace duo of Jasprit Bumrah and Mohammed Shami proved to be unstoppable, outclassing the entire England team by picking up a combined total of seven wickets. England struggled to find their footing and were bowled out for a mere 129 runs.
With this victory, India secured their sixth consecutive win in the tournament, solidifying their position at the top of the points table. On the other hand, England finds themselves at the bottom, facing an uphill battle to turn their fortunes around.
In a heartfelt post-match presentation, England's captain Jos Buttler expressed his frustration, stating that the team's performance has been a recurring story of falling short in various aspects. As their World Cup campaign comes to an end, the road to qualifying for the ICC Champions Trophy 2025 seems arduous for the Englishmen. Currently at the bottom of the table with just three games left, finishing in the top seven seems like a formidable challenge.
Former England's World Cup-winning captain Eoin Morgan added an intriguing twist to the conversation, suggesting that there might be something else at play behind the scenes. In response, England's coach Matthew Mott acknowledged Eoin's opinion and expressed his intention to have a chat with him, recognizing that Eoin has been away due to the birth of his child.
Despite the hurdles they've faced, the defending champions are determined to end their tournament on a positive note. With their sights set on the future, they are committed to meeting the high expectations placed upon them and ensuring that their next campaign showcases the level of performance everyone anticipates.
As England's World Cup journey draws to a close, fans and cricket enthusiasts eagerly await their final matches, hoping for a resurgence that will restore their pride and set the stage for future success. Only time will tell if England can overcome their challenges and emerge stronger, ready to reclaim their position as a dominant force in international cricket.