Maisy's deadly finishing sweeps Notts away to notch first win of season
By Felicity Hitch
An MMU Netball side missing three of their starting seven notched up a convincing 50-32 victory against visitors Nottingham University to register their first win of the season.
Goal shooter Maisy Stevens from Dukinfield stepped up in style as Man Met racked up an early lead thanks to her deadly finishing, scoring six consecutive goals in the first quarter.
Maisy started in place of injured goal shooter and Irish international Niamh O'Leary, who provided expert punditry for the Matchday Live coverage on MMU Sport's YouTube page. You can see the whole game here: https://www.youtube.com/watch?v=WFPZ0c4DuXs
After the disappointment of last week's last-minute 47-46 loss to Nottingham Trent, Man Met set out determined to get the win, with fast accurate passing getting the ball to the hoop quickly. There, Stevens proved herself a master of her third of the court, scoring 39 of Man Met's 50 points.
Head coach Paige Kindred was full of praise for her performance: "Her first two games have been astonishing. I'm so proud of her. She's been cool, calm and collected. She's come up against some strong Pathway defenders already and she's just been something else. She's run the baseline, she's held the front and she's just used all the tools in her toolkit so I'm super proud of her."
Maisy Stevens proved deadly at the hoop. Picture: Sam Heitzman.
After the game, 18 year old fresher Maisy, who plays for Tameside, was typically modest. "I've been shooting ever since I was a little kid when I just got put in there [as a goal shooter]. I've had to go out and do my time under the post, and that's grown into this. I'm just going with it for the minute!
"It boosted the morale of the team, and everyone played so well – not just one or two people, the entire team that played well which is always a good thing."
The convincing win boosted confidence throughout the squad after the disappointment of last week's dramatic loss to Nottingham Trent. Goalkeeper Eleanor Jorgensen was voted Woman of the Match for her work disrupting the Nottingham attack.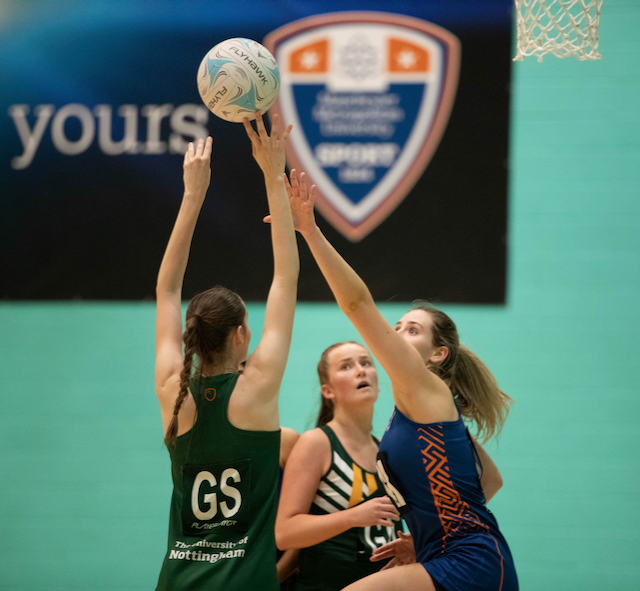 Eleanor Jorgensen disrupting the Nottingham attack. Picture: Sam Heitzman.
After the game, she was delighted with the effort and performance from the team.
"We left last week feeling a bit down. I was a bit worried coming into this one that we would bring that into the game, but everyone seems to have rallied. I think it's pushed us because we actually thought we need to get it together now."
Nottingham captain Marlene Lange thought her team played well despite the loss.
"It was a great game. Man Met pushed us really hard. We kind of lost it in that first quarter and it was quite a steep score line for us so we're not particularly happy with that. But I'm happy with how the girls carried on fighting for the game and the rest of the quarters were much tighter.
"Obviously it's a loss and on the road as well so it's hard to take, but we'll come back fighting stronger."
MMU Netball will play Birmingham next week.
.