Carr and Coward get two each as Man Met hit Chester for six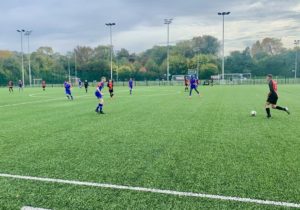 MMU 6, Uni of Chester 1
Faflik, 7; Coward, 11, 60; Carr, 31, 52; Thomas, 75.
Jude McGuirk at Platt Lane
Gareth Smith's Man Met football first team continued their winning streak with a decisive victory at Platt Lane against the University of Chester.
Chester applied the pressure early, with Man Met soaking up the pressure then trying to counter attack through the electrifying pace of forwards Tom Carr and Ben Coward.
The first chance came in the fifth minute as Ben Coward struck the ball with his right foot across goal from the six yard box but the ball drifted past the post. With captain Nathan Baker as playmaker spraying balls left and right, Man Met began to dictate the play and set the tempo.
The first goal of the game came two minutes later with Mark Faflik curling one into the top left corner of the goal over the keeper. Four minutes later Ben Coward added a second after good Man Met possession and approach work, wearing down the Chester defence.
Another 20 minutes went by, with Kodai Abe putting in a real shift at the back, closing down all of Chester's attackers. This meant that MMU could spring onto the attack with Nathan Baker floating in a ball to the back post, a header fell down in the box and Tom Carr smashed it home with a real acrobatic finish, adding to what will be a long list of goals this season. The half ended with another MMU attack with Mark Faflik ratting the bar from a short corner.
Seven minutes after the re-start, Tom 'The Star' Carr slotted home another goal for Manchester Met from about 12 yards out, a real poacher's finish from a man truly in form.
Carr nearly his second hat-trick in two games when in the 57th minute, he ran onto a Faflik cross and tried to dink it into the top of the goal, but couldn't find the net.
On the hour mark Ben Coward used his tricky feet to weave past two Chester players and slotted home for his second and MMU's fifth of the afternoon.
With only 15 minutes to go, Man Met's sixth came from an unlikely scorer as defender Harris Thomas bombed up the pitch and got himself on the scoresheet.
Having been dominant for most of the game, MMU couldn't keep a clean sheet as Chester pulled one back as a consolation goal. That weakness late in the game may prove costly, and this side needs to learn to shut the game down.
But a good result, goals a-plenty and another three points at Platt Lane. It may be too early to talk about Fortress Platt Lane, but that's surely the target. This side is on-song.