Black creatives soirée at central library part of Black History Month is huge success
Black creative excellence honoured
Fashion, visual art, poetry and music
Organised by Cultureville, Bob Expo and Business and IP Centre GM
Marked the end of the Black history month
A new organisation aiming to change the way black people are perceived is celebrating after its first event promoting black creativity was a sell-out.
More than 100 people attended the event in Manchester's central library.
The event was part of Black History Month, celebrating talents from African culture. 
Black Creative soirée was a collaboration between three Mancunian businesses: Cultureville, Bob Expo and the Business and IP Centre Greater Manchester, and gathered more than 10 black creatives to showcase their work.
Vendors, from make-up artists to hairstylers, videographers and catering were part of the event.
Producers Adeola and Ronke Adelakun, Monique Kufuor and Jonathan Ebbs aimed to celebrate the exceptional talents of the black creatives.
Ronke, co-founder of Cultureville, said: , "The idea behind the event was to celebrate black excellence, often the media attention is negative, and we wanted to change the narrative.
"When we unite, we can achieve so much more.
"In other places it might seems like a competition, when we unite, we can achieve so much more. We wanted to get rid of this mentality where there is only space for one, we can all be successful, and we can even be quicker by helping one another.
"We considered this as a collaboration among black creatives to promote all of us."
Businesses benefited from being able to present their work to a larger audience
Fikayomi Agbola, founder of "proudly African" fashion company Bittany, said: "I expect a lot of networking, to meet new people, other brand owners, other black businesses, exposure for my brand and having fun.
"I want everybody to know that we are doing it, we are killing it and we are putting a lot of effort to get the brand out there."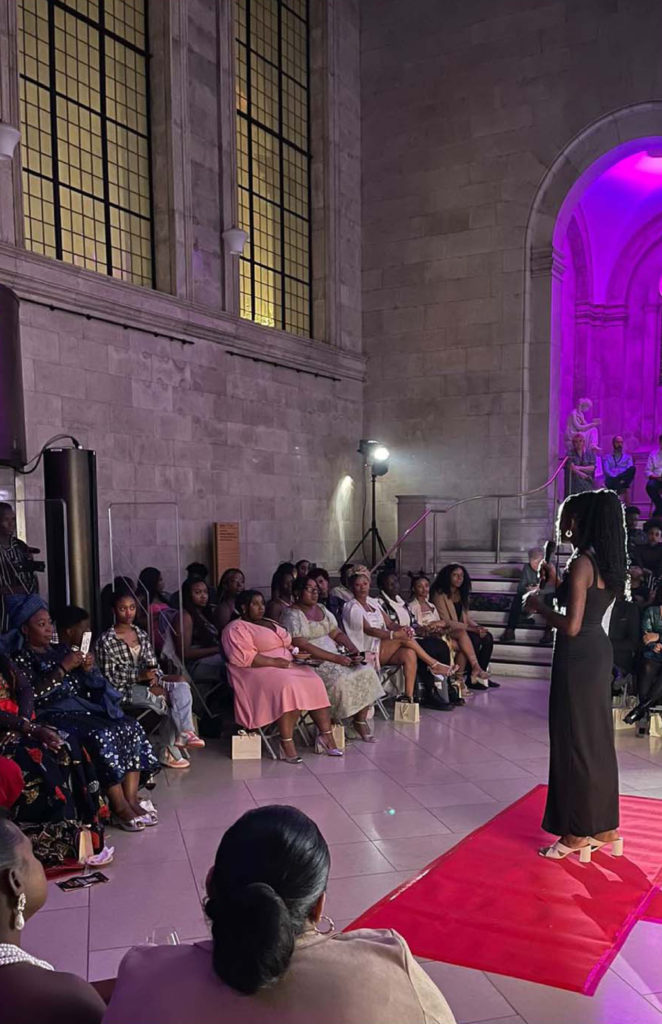 Fashion, poetry, musical and artistic performances intertwined just as African culture influences and western did. This created a vibrant and powerful harmony. The soirée offered a show under the sign of togetherness, sharing, mutual help and pride of origins.
Artists expressed themselves through questions of identity, discrimination and repression, but also building on self-confidence, cultural wealth and, pride.
Selina Chibanda, who produces art under the name Eye am Africa, said: "Art is how I show the beauty of my culture, which offers new ways of viewing the world.
"Art is my escape it gives me time to express myself without boundaries."
Marion Moumpala, member of the audience and stylist in Manchester, said: "I was looking for an event celebrating black culture since it is black history month, and something focused on creativity because I think it is important to show all the talents that African and Caribbean culture has.
"It was really inspiring I was touched by a lot of poems they celebrated well the fact that we are different but that we have as much place as other people.
"I loved everything about fashion, the way they mixed styles and everything that actually influences us."
Tanya Weekes, a photographer based in Manchester, added: "It was something that I don't normally see.
"The venue being Central library was also nice, it was interesting to see people being brought together with art and fashion. That's why I came.
"I wish it was longer."