'Bike library' programme in Brunswick offers opportunity for locals to borrow a bike for free
Brunswick Village is host to a new free bike rental scheme
Bikes are available every Tuesday and Thursday 10am-2pm
Another venue, Crossacres Library is opening in Wythenshawe on the 6th December
Transport for Greater Manchester has launched a 'bike library' scheme allowing people to borrow a bike for up to two weeks free of charge.
Age UK is hosting the programme at Brunswick Village, one of 15 venues currently offering the chance to try out a bike.
The 'bike library' name comes from its likeness to borrowing a book from a library, allowing people to borrow a bike, try it out and then return it.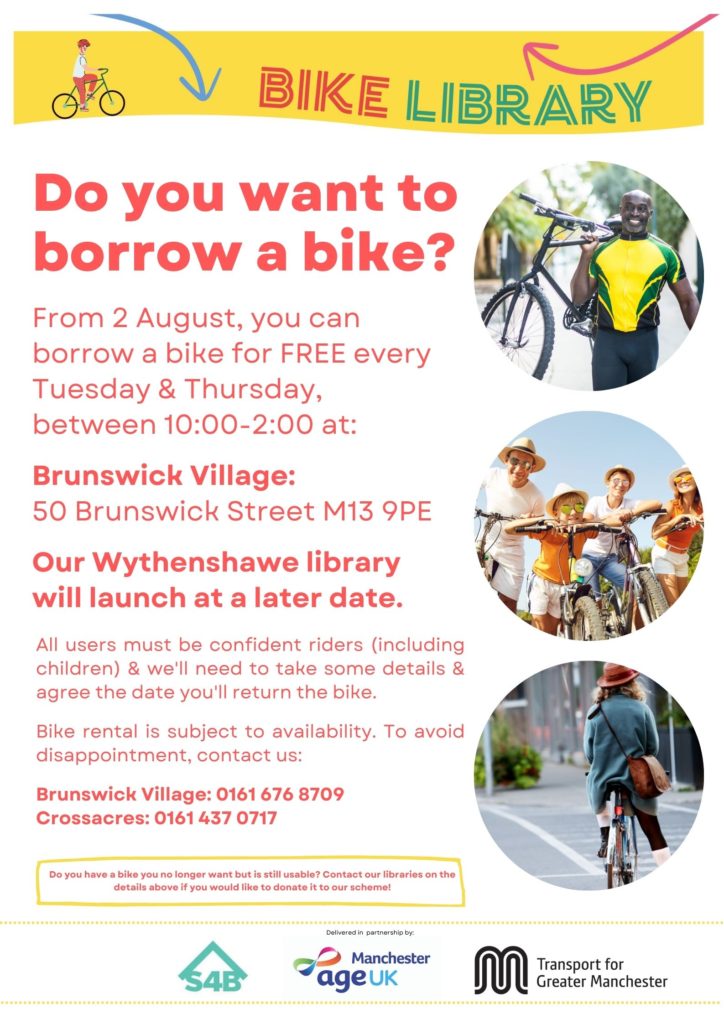 Martin Toal, a volunteer for the programme and a Manchester resident, said: "The bike library is a scheme initiated by Transport for Greater Manchester and Age UK has taken it up. They got funding to start it up here. Other groups can start it up with this scheme.
"I'm always encouraging people to get involved. The bikes are useful for commuters, you don't have to be blocked by traffic. It's great.
"With bike lanes, you feel you're a bit more protected and it feels much safer."
The bikes are all thoroughly checked and repaired by Joe Rostern owner of local business, Mobile Cycle Repair – MCR.
He ensures all bikes are thoroughly checked and safe to use. Cycle accessories such as helmets and high-vis jackets are also available.
The Brunswick Village venue currently has 10 bikes, three of which were donated by members of the community. Organisers are keen for further donations which can be arranged by calling 0161 676 8709.
The bike library initiative also aims to establish a strong community spirit.
Yvette Barlow-Noone, ageing well development worker for Age UK, said: "The bike library project, from my perspective, is about engaging volunteers. It's all about promoting wellbeing, engagement, and a sense of purpose.
"It's really good to have a live project for the residents of Brunswick Village to work on. Reaching out to the local community, we've had successful loans from people."
Martin said: "I enjoy getting out, when my health isn't as good I know I have other things to keep me going. It's great to have things in the building, little activities from day to day that keep you going and keep you interested."
Joe said: "We actually taught two children how to ride a bike. It was really rewarding. There were two boys and they ended up taking a bike to ride alongside their mum.
"They were both fighting over the one bike and both really eager to get on it to go. They definitely appreciated it."
Further to the opening of the venue in Brunswick, Age UK are launching an opening in Wythenshawe on 6 December at Crossacres Resource Centre.
Age UK are always happy for further donations so if you have a bike that you'd like to donate then you can visit the Transport for Greater Manchester website to find your closest library.