Basketball Matchday Live double-header – both games here in full
Man Met Matchday Live's first basketball double-header featured commentary debuts from Sport Journalism students and strong performances on the court by both our Men's and Women's teams.
Our team of camera operators and directors watched the action unfold from our Platt Lane production suite under the watchful eye of technical chief Sam Heitzman.
Watch both games here in full
The Women's game began at 5pm, with Leeds only taking to the court to warm up ten minutes ahead of the hooter. Guard Holly Bryan soaked up the Leeds pressure at the blue and orange hoop, then time and again kicked off attacking moves in the other direction.
Our Canadian star player, 6'3″ Sam Keltos, switched play left and right as she made space for goal shots and was a focal point at the basket for return passes. MMU dominated the game but let Leeds back in a little in the third and fourth quarters.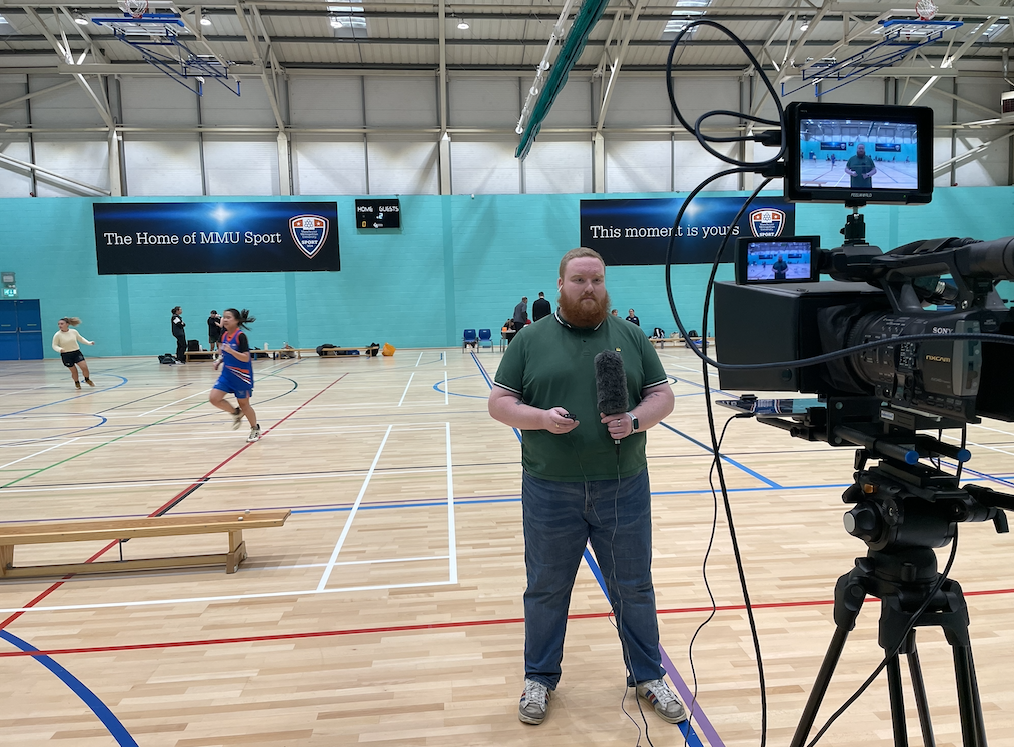 MMU Women 66 Leeds 40
Commentary team: Freddie Johnson and Jack Merry
In-play analyst Amir Williams
Runs to 1.34"
REACTION: Post-match with MMU guard Holly Bryan and coach Marg Jones at 1.37"
After the game Holly Bryan said: "A few early fouls especially on our stronger players led to us not having that togetherness on the defensive side on the court. We just let a few things go and they got back into it, but nothing major to worry about."
Coach Marg Jones was pleased with the performance: "I thought we played a very first good first half, but we didn't respond to their zone defence very well – we've not really practiced zone offence yet, but we'll get there. They were better in the second half when they played zone. We have a core of three very experienced and the rest are learning, so when Leah was injured in the second half that was a little impactful. We have a little work to do but it was very encouraging."
The men's game at 7pm featured MMU's first home fixture of the season after a convincing win away at Liverpool the week before. It was a fast and furious affair as the seven-man squad of Nottingham Trent, led by stand-in coach and scholar Jacob Cirtautas, started with a hard-running and quick-passing attack which forced MMU onto the back foot. As they struggled to match the intensity of Notts Trent, MMU found themselves trailing, and couldn't get themselves back to level pegging.
MMU Men 61 vs Nottingham Trent 95
Game coverage starts at 2.01.43", runs to 3.34"
Post match interviews with Callum Scott 3.35" – 3.39"
REACTION:
Jacob Cirtautas, Notts Trent player-coach: "We came with a plan, we played as a team and we executed our plan. It was a great game and a fun experience. I accepted the role, took the leadership and we got the job done. We all trust each other and we played as a collective. I enjoyed it."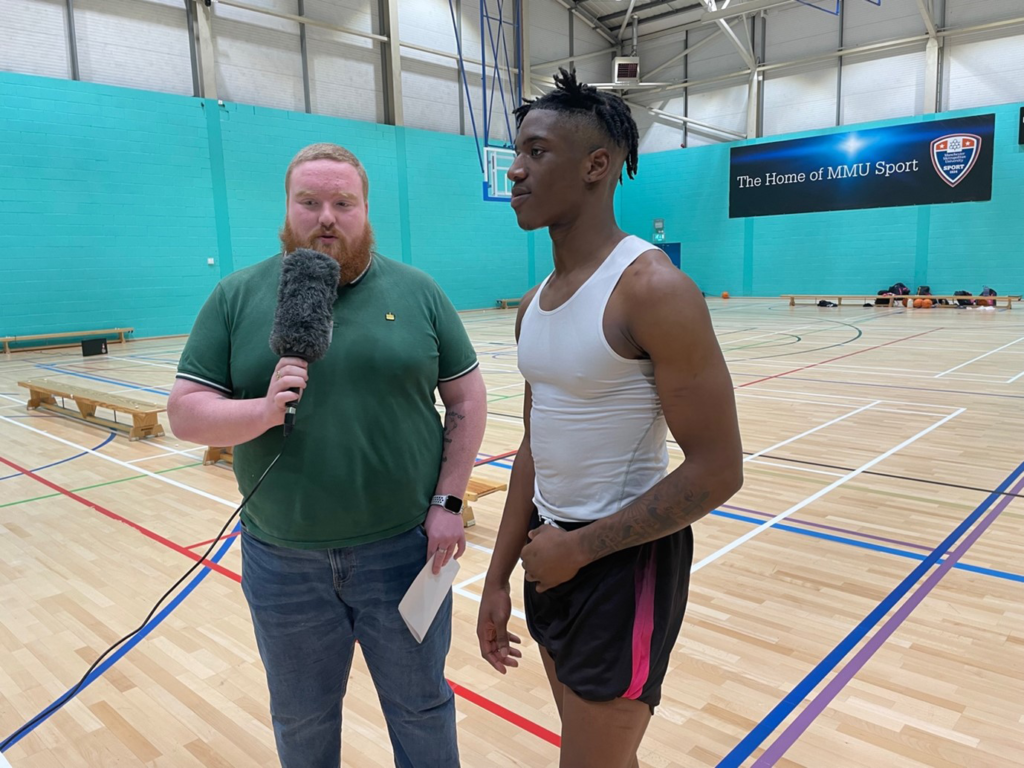 Notts Trent player Moyo Adekeye said: "It was a good game. We all got our shots in and we were able to play freely and execute well. Our defence in the first half and our transition running was strong and helped us get good scores on the board."
However, MMU basketball head coach Callum Jones was disappointed.
"I've got to give a lot of credit to Nottingham. They were the team travelling, but they came out with so much intensity, played hard moved the ball well and came at us with a lot of intensity. We just weren't ready from the start.
"We've only had two practices together and a lot of the other teams in this league have been together a long time and play together in national league set-ups. There's an adjustment to be made at this level of basketball – it's a lot more competitive and physical to what our players are used to. It's a learning process. We're a team of undergraduate players mostly and that adjustment takes some time. In a few weeks I expect us to be much better."
The next game for the blue and orange is against probably the best team in the league – away at Loughborough. So they need to have a good week of practice, make those adjustments and get ready for that.