Ambitious plan revealed by Selfridges to go carbon neutral by 2040
Selfridges shares its first results on Project Earth
Store moves its carbon-free objectives forward by 10 years
Aims to reach 'reuse and resale' goals by 2030
Selfridges has released its first-ever national eco report with a promise to be carbon neutral by 2040.
The report called Project Earth was released at the start of September 2022 and is two years in the making.
Signing the climate pledge, launched by Amazon and Global Optimism, Selfridges has pledged to be carbon neutral by 2040 instead of 2050.
This is a challenge for the company because 95% of its footprint is due to emissions caused by its sourcing.
Resold, rented, refilled, or recycled products sold will reach 45% in eight years. At present the rate is only 1%.
As part of a wider initiative the company is also addressing the unequal pay issue between men and women.
Another goal is to fill at least half of the direction roles with women. Today this rate equals 56-57%.The 8% "ethnic minorities" rate in senior positions will double by 2025.
Selfridges promises that all that is "built, bought and sold" will correspond to its own "environmental and ethical requirements" and this by 2030.
A product labelled Project Earth only needs to correspond to 50% of one environmental and ethical criteria set by Selfridges.
This applies to product categories: fashion, beauty, home, and food.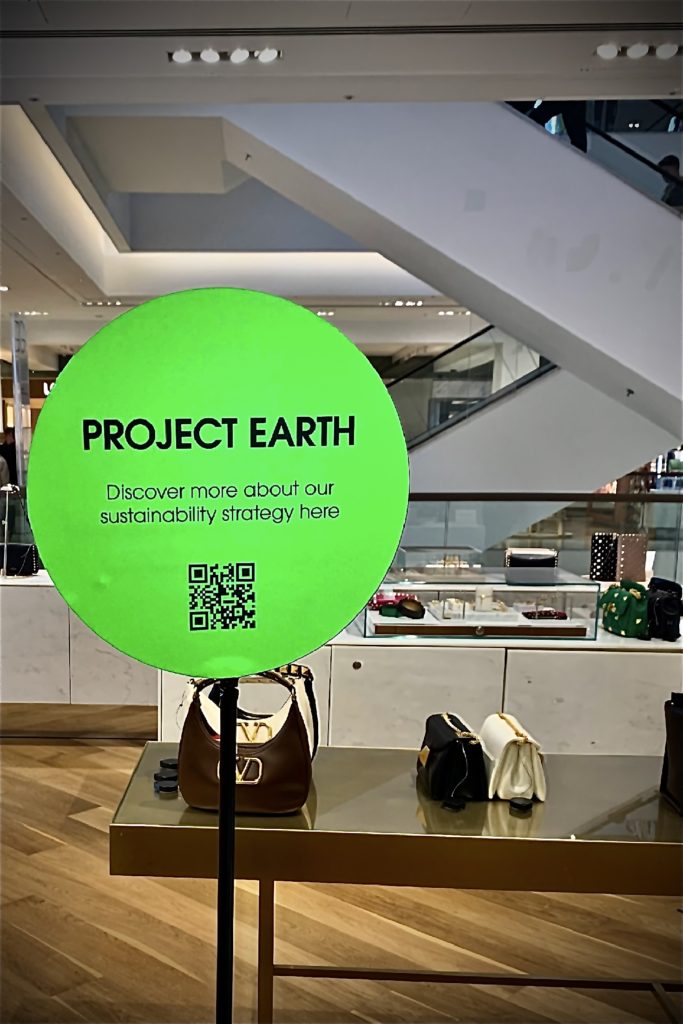 Dr Hilde Heim , lecturer at Manchester Fashion Institute, said the report was too generic and is critical of the eco jargon used in the report, which she says is similar to an algorithm on social media.
"They're trying to reassure the customers that they know what they're doing here," she said.
"It is very celebratory; it sounds like they are ticking the boxes of what people want to hear.
"It can be interpreted, and it can be misinterpreted because customers are not experts in the field."
London centric
Sale associate and green warrior at Selfridges Manchester, David, said the store had reduced the amount of plastic it uses, and its refillable make-up initiative was very successful.
He said: "The good thing is that we now have to make sure that it is actually happening. We don't want to talk about it and then go away."
He added that the only problem is that "we are not London. It is a little bit of a struggle because of our particular size.
"We just don't have the space. Unfortunately, if we had the Mark and Spencer Building, I think Selfridges is always trying to accommodate everyone, so if they could find a little spot, that could be done".
Methodology and terminology
"I reckon good on them for doing that because the government certainly did not"
Although the report seems correct on its whole, and the fact that Selfridges communicates and acts on environmental problems is positive to Dr Heim, although, she would like to see "more scientific methodology", especially in creating lists of criteria. Not justifying them clearly could be problematic in terms of impact.
"I am a bit hesitant about slamming organisations such as Selfridges because at least they got the ball rolling, so I reckon good on them for doing that because the government certainly did not".
"I have a problem with that and that is the self-selected criteria I wonder about the methodology in creating these lists.
"How are they relevant if you look at it from a purely scientifically methodological point of view?"
She linked this with the recent legislation pressure on the regulation of reference terminology arising from the H&M scandal in its misuse of the Higg Index. The industry currently has discussions around policymaking to enable clearer "eco-terminology" and a greater impact on people and the environment.