A ninth local nature reserve declared in the name of biodiversity
The former tip Kenworthy Woods has been declared Manchesters' ninth Local Nature Reserve
The Manchester City Council approved this decision as part of its plans to increase biodiversity and help tackle the climate crisis
The MCC plan to declare more LNRs in the near future
The city council has approved the decision to make Kenworthy Woods (the 36 hectares former tip located in Northenden) the city's ninth Local Nature Reserve (LNR).
In October 2021, Manchester was the first major City in England to sign the Edinburgh Declaration – a global pledge registering the council's concern about Biodiversity loss and signalling their commitment to tackling the twin challenges of biodiversity and the climate crises. This commitment has indeed been demonstrated, with the council in partnership with the Lancashire Wildlife Trust and Natural England, declaring nine nature reserves, including the most recent Kenworthy Woods.
'It's great news for nature conservation and recreation in this part of the city. An example of our biodiversity plans in action'

Councillor Tracey Rawlings.
Melanie Tann, a policy officer working within the planning service, said: "The reasoning behind declaring Kenworthy Woods as a local nature reserve is that MCC endorsed a new Biodiversity Strategy in October 2022. Objective 2 within the strategy states that 'Land managers and practitioners in the city must be provided with the necessary knowledge and skills to protect and recover biodiversity.
"One of the key ways to achieve this objective is to increase the number of Local Nature Reserves in Manchester. The strategy proposes that further sites will be designated as Local Nature Reserves on an annual review basis."
As part of the council's plans to recover biodiversity, the council has prioritised protecting species at risk of extinction, including birds like the Willow Tit; the UK's most threatened resident bird with its species population having declined by 94% since the 1970s. With effective and sensitive land management, and by enhancing and creating suitable habitats, the council is optimistic about Kenworthy successfully providing safe spaces for these endangered animals to return to.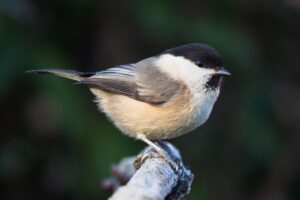 Kenworthy Woods has been on the council's radar for some time due to its proximity to other LNRs, and Kenworthy's relationship with Chorlton Water Park. With an agreement finally finalised, the new LNR can now receive extra funding to not only provide for endangered species but also to manage and protect this beautiful nature spot for local residents to enjoy and most importantly for future generations.
Northenden Councillor Sam Lynch gave his full support for the project saying, "during the pandemic we saw how important our green spaces and woodlands are to our physical and mental health and the importance that they play in our residents' lives." His statement is indeed supported by research linking access to public or private green space with better subjective well-being and self-rated health.
'Kenworthy Woods is a beautiful nature spot and I strongly support its declaration as a nature reserve'

Councillor Sam Lynch
Tann added: "We have lots of plans for the future. We are refreshing our Local Plan, which will put a strong emphasis on the natural environment. We would hope that through a range of new policies and plans, including the refreshed new Green and Blue Infrastructure Action Plan, our City River Valley Strategy, our new Biodiversity strategy and the forthcoming new tree and woodland action plan, the City's environment will continue to be improved and enhanced over the coming years. Watch this space for future LNRs!"