2-0 To Team Blorange.
Second victory for MMU over Sheffield in 54-31 Onslaught.
An extremely convincing win for MMU against University of Sheffield at Platt Lane today, with a heavy scoreline of 54-31.
When these teams last met at Norton Park in November last year, MMU scraped a victory with a nail-biting last minute try, leaving the final score at 21-17.
MMU's lineup was vastly different from the usual 15 due to several injuries; Ryan Woolfenden replaced Oli Powell at hooker, Greg Morgan for Tanaka Ndoro at number 8, Toby Crane for Tom Walker at fly half, and Fin Hare for Willem Johnson at 11.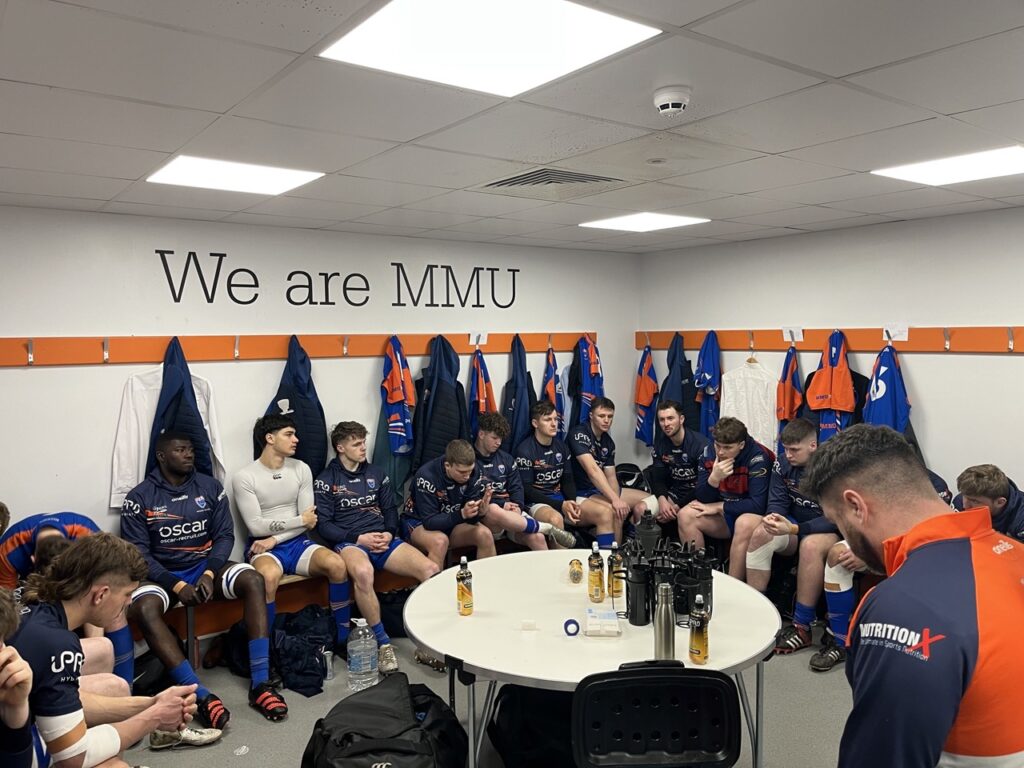 Today's game started as the last ended, with both sides demonstrating vicious physicality in the scrums and wondrous ball handling skills in the back lines from the first whistle.
Sheffield mostly stuck to their usual tactics of utilising their pack's size and strength to break MMU's defensive line and then playing the ball fast and wide to try and score on the outside, but it was a short inside pass round the side of a ruck that handed them most of their tries.
Team Blorange were seemingly taken by surprise by this at first, as they let Sheffield rack up 21 points against MMU's 28 before the second half when they acknowledged this deceptive move and defended accordingly.
With what appeared to be the final move in the Sheffield playbook snuffed out, the onslaught began and MMU scored another 26 points before the final whistle, more than doubling the score they were able to put on Sheffield before Christmas.
As the points racked up, emotions were running high as two yellow cards were dished out to MMU's Josh Lugsden for a high tackle, and Sheffield's Ali License (7) for a late tackle. MMU's growing confidence and Sheffield's shrinking chances at victory also led to a few scuffles between players before the final whistle blew.
Felix Lorimer (6), tasked with the sole job of disrupting the breakdowns by Head Coach Rob Jones, was especially strong in contact, making three dominant tackles in the first half alone, which earned him the title of Man of the Match. The back rower also scored a try from an attacking maul from an MMU line-out.
James Phillips (7) and Max van Hilst (9) were also very effective in offence; Phillips with two tries, one a sneaky interception try after a Sheffield line-out, and Max with a solo try round the open side of an MMU ruck on the opposition 5-meter line.
Tom Charsley-Evans (15) was a reliable points converter, making 7 out of his 8 conversions, and making a couple of strong ball carries in attack.
Other try scorers were Jordan Lombard (12), Josh Lugsden (13), Dirk Bruil (4), and Tom Dixon (18), who scored within minutes of coming on to replace Ryan Woolfenden at flanker.
Special mentions should also go to Greg Morgan (8) who put on a stellar performance in his second game at number 8 after returning from injury, and Jack Ingram (14) who almost lost a tooth while preventing an enemy try.
All eyes now turn to next week's home game against Leeds Beckett 2's in a chance for MMU 1's to redeem their 26-19 loss at Yarnbury Rugby Club in December.
But for now, all 15 Blorange players should relish this victory in their antepenultimate game of the 2022/23 season, as they are still very much in contention for the BUCS Premier North 2 league title.
Be sure to follow @MMURUGBY on Twitter for updates and MMU Sport on YouTube for next week's livestream!